Watch - 2000hp Lamborghini Gallardo spins out at 200mph
Hugely powerful Lamborghini ends up in a lake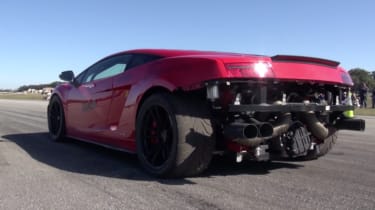 2000hp is never an easy number to control, but in this twin turbo Lamborghini Gallardo, it clearly proves too much for the driver.
Attempting to get the power down during a runway drag race, the Lamborghini spins out at close to 200mph straight into a lake.
In order to get that sort of horsepower from the Lamborghini's engine, it appears that the rear bumper had to be removed. This means no aero from the diffuser.
The lake doesn't appear hugely deep, so it may be that the car is salvagable. The driver emerged from the accident unharmed.