Lamborghini LP640
Our Lambo visited the bodyshop this month, and it was a reminder how much replacement parts can cost on a supercar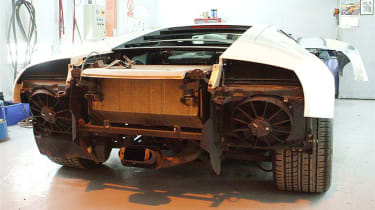 Can't deny I missed the LP640 while it was away receiving some much-needed TLC recently. A thorough inspection and an interim service at Lamborghini Manchester came first, and thankfully it revealed only fairly minor faults, including split track-rod-end boots – not surprising given the hard track use the car has endured in the past year.
Next the bodywork came in for some attention. At over £200 a litre, Lamborghini's pearlescent paint isn't cheap, and apparently it's not the easiest stuff to apply either, so full marks go to Audi dealer Smith Knight Fay of Stockport (01613 350724) who did a brilliant job of repairing the LP640's badly cracked carbonfibre front spoiler and other less affected panels such as the rear undertray and bumper. Replacing these just wasn't an option as a new spoiler alone would be not far short of the price of a new Fiat 500 Abarth. Yep, about 13 grand!
Thankfully the clutch is still hanging in there. It's getting a little heavier – a sure sign on a Murciélago that it's not long for this world – but it's done well and, with a bit of luck, it may last another six months or so. When it does expire that'll be another five grand… Come to think of it, for the price of a front spoiler and a clutch it would be possible to snap up a new Fiat 500 and an original 1970s one too!
Running Costs
| | |
| --- | --- |
| Date acquired | August 2007 |
| Total mileage | 18,044 |
| Costs this month | £1640 (service), £2440 (paintwork) |
| Mileage this month | 221 |
| MPG this month | 12.5 |