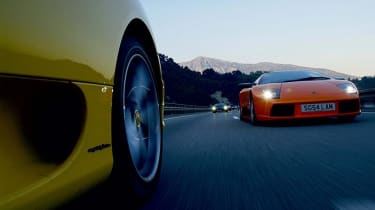 Since the Murciélago isn't going to be around for ever - especially since it's eating into my bank balance with ever- increasing voracity - the plan was always to make the most of it while it's here. So when I got a call from Davy Jones of Drivers Run, asking if I'd like to join them on a three-day jaunt to Monaco, I heard myself saying yes, while the other half of me questioned my sanity in committing to 3000 miles in a Lambo that will soon need a clutch, a set of pads and a 15,000-mile service.
No matter, live for today and all that, and a week later I found myself with photographer Chris Wallbank at a wet and windy late-evening Folkestone with a bunch of 360s, a lone F40 and countless 355s and 911s. The plan was to head east through Belgium (to avoid the attentions of the friendly gendarmerie) then south through Luxembourg where a stop for espressos and super-unleaded was planned, before making our own way to the Monte Carlo Fairmont Hotel, situated on the famous hairpin on the F1 circuit. After a gruelling and uneventful 13-hour thrash south, straight through France and the rising sun, we arrive exhausted but intact and pleasantly surprised at the Murciélago's grand touring abilities.
Day two and, with the temp in the 80s, our destination is a restaurant in the medieval village of Entrevaux, about 1500m up in the foothills of the Alps. Situated about 50 miles north of Nice, it's accessed only by the N202, a road that was washed away in parts ten years ago when the nearby River Var burst its banks. Since then it's been rebuilt and resurfaced with that mirror-smooth tarmac only French roads seem to have, and it hugs the sheer sides of mountains, passing through 17 tunnels on its way up. Even better, for 11 miles opposing traffic is routed around the other side of the valley.
Hitting the one-way section near St-Martin-du-Var, we accelerate rapidly to three digits as we blast into the unlit and unlined tunnel three, the sound of the exhaust rocketing back at us as we grin at each other like idiots. After 200 yards we're back into daylight, and a glance in the rearview reveals a familiar, more angular shape gaining on us. On the twistier bits the nimbler Gallardo obviously has the advantage, but once on the straights, despite the Murciélago's extra 200kg, the V12's extra 80bhp and 100ft torque leave the V10-engined 'baby' way behind. After a light lunch in a restaurant overlooking a steep gorge, we head back to Monaco; more events are planned for the evening but we decide to sit outside a restaurant off Casino Square, supercar-watching (amongst other things) and noting the number of F430's howling by.
On the homeward journey the next day we take a nostalgic diversion to the old racetrack at Reims, which closed in 1970. Then, after a quick bite we eat up the 250 miles back to Calais and only just catch the 10.30pm Chunnel train, having passed a succession of 360s pulled over by the quick-witted gendarmes. We were lucky this time.
More than two and a half thousand miles in three days and the Murciélago didn't miss a beat. And I've still got a clutch.
Thanks to Drivers Run (www.driversrun.com) and Chris Wallbank Photography (www.cjwphotography.co.uk)
Running Costs
| | |
| --- | --- |
| Date acquired | September 2004 |
| Total mileage | 13,016 |
| Costs this month | £0 |
| Mileage this month | 3205 |
| MPG this month | 14mpg |