Lamborghini LP640: Lamborghini LP640
Never brake hard in reverse with the door up. They don't mention that in the manual...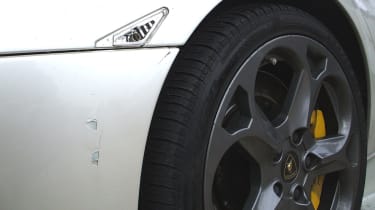 With the end of the trackday season just around the corner, I'm ashamed to admit that the LP640 is looking a bit like a battered old warhorse. Apart from the inevitable stone-chips that a full year of road and circuit use brings, LP07 has also had an argument with an Ariel Atom, which left the nearside repeater smashed, the side of the front bumper cracked and a nice image of an Atom's tyre on the Pearl White paint. It could have been worse, though, and the damaged panel was one down for a repaint anyway, while the side repeater is the same as that on a Ford Focus, so all's not lost.
Regular readers may recall I've mentioned in the past how easy it is to look foolish in a Murciélago if one isn't especially careful when parking. Since manoeuvring the LP640 in a city environment almost always draws a crowd, tripping up when getting out doesn't do one's credibility much good, and nor does nudging the car behind with your seven-grand carbonfibre rear bumper thanks to the distinct lack of a rear view.
To avoid a repeat of the latter I've managed to perfect the technique of reversing Valentino Balboni-style, perched on the wide sill with the door up. Or at least I thought I'd perfected the technique, until the other evening when, while reversing in just this fashion, I braked a touch hard, causing the huge door to swing down and clout me on the side of the head, almost knocking me out cold. They don't warn you about that in the manual…
Running Costs
| | |
| --- | --- |
| Date acquired | August 2007 |
| Total mileage | 15,947 |
| Costs this month | £15 (indicator lens) |
| Mileage this month | 773 |
| MPG this month | 10.7 |