New Bowler V8 road car roars into view
Defender-based SUV features bespoke Bowler chassis – and a meaty motor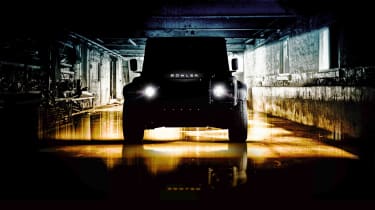 Fans of rally-raid style uber-off-roaders will be delighted by news from Bowler that a new road-going model is in the works. It's due to make an entrance in October, but meanwhile the Derbyshire based specialist car-builder has released a short but suitably scintillating static video of the new SUV's front end. The footage doesn't give away much, but it does feature an earth-trembling V8 'start-up-and-rev' soundtrack that's full of fruity promise.
Very little information has been released, but the company has already threatened to tease us with more 'sounds, snippets and specifications' in the run up to its October launch.
> Click here for our look at the most exciting cars still to come in 2018
Meanwhile, we can glean from the video that the new car features a similar frontal configuration to the 2016 Bowler Bulldog – unsurprising as Bowler has confirmed the newcomer will be built on the same Cross Sector Platform (CSP).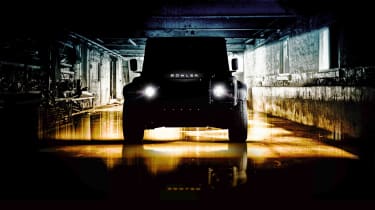 The CSP is a ruggedly engineered lightweight aluminium rolling chassis, designed by Bowler to accept the installation of modular component sets and various powertrains. In the Bulldog, it features turbodiesel and supercharged petrol V6 engines from Land Rover, plus a regular 4x4 configuration. However, the company has already hinted at the development of a 6x6 prototype based on the CSP. Might this be why it's only showing us the new model's front end for now?
Bowler has come a long way since founder Drew Bowler built his first Land Rover-based off-road racer on the family farm in 1984. He died in 2016, but the legacy and high media profile created by Bowler's poster cars such as the Tomcat, Wildcat, Nemesis, EXR and Bulldog looks set to continue.