New Lotus models temporarily on hold
EXCLUSIVE! Lotus suspends much of its new model development - including the new Esprit - as owner Proton enters a 'lockdown' period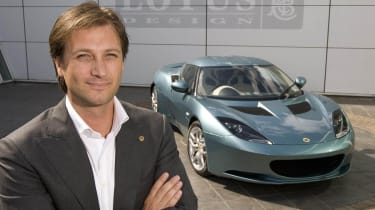 Lotus boss Dany Bahar has admitted to evo that much of the company's development of new models has been suspended following the Malaysian government's decision to sell its majority stake in Proton. 
It's only three months since evo spent a day with the Lotus CEO at Hethel, where rumours of Proton's desire to get rid of the British sportscar brand seemed to be effectively disproved by the fact that Bahar had just signed a new four-year contract. 
But only a few weeks later, Lotus's future was thrown into turmoil when the Malaysian 
Government sold its 42.7 per cent stake in Proton to a large Malaysian industrial
 conglomerate (DRB-Hicom), which then bought a further seven per cent of Proton's shares on
 the open market.
During our exclusive interview in Geneva, Bahar told evo that he was 'completely taken aback' when he heard the news, especially when it became clear that, under Malaysian takeover regulations, the whole Proton Group would enter a three month 'lockdown' where only normal trading activities could be continued, and anything outside normal business would have to be suspended. 
The result at Lotus is that while car production has continued (at a reduced level), much of the company's R&D work on new models has had to be delayed. This has led to a pushed back launch date for the new Exige S (for which there are already 400 orders in the bag) and the Evora GTE – plus a possible six month delay in the launch of the Esprit, now not expected until early 2014.
And Lotus's future plans also depend on DRB-Hicom wanting to retain Lotus at the end of this 'due diligence' window. To try and ensure it does, Bahar is currently flying to Kuala Lumpur every Monday to talk company representatives through Lotus' plans and the five-year programme it had agreed with Proton two years ago.
'This difficult period for Lotus finishes at the end of March and that's 
when we will know then whether DRB-Hicom will want to continue with our 
business plan,' Bahar admits, 'I really hope they will but I cannot call it at the moment, it's still 50:50.'
Whatever happens, Lotus continues to push on with all of its motorsport activities, the opening of its Regent Street Lotus Store in June and will be the featured marque at the Goodwood Festival of Speed this year. With so much work already put into the reinvention of Lotus, many of the brand's fans will be hoping the company gets the green light from DRB-Hocom soon.