Lotus Elise S2 buying guide
There are many versions of the S2 Elise – and they're all brilliant. Here's the low-down
It was GM money that paid for the Series 2 Elise. Part of the deal was that Lotus also developed a sports car for Vauxhall/Opel, which is why when the new Elise arrived at the end of 2000 it shared much with the VX220, including bespoke Bridgestone tyres (in size, if not compound) and trick new Bilstein dampers. The S2 also had a more sophisticated look – more 'pocket supercar' – while the interior was better trimmed and refinement a notch higher.
The basic S2 had a revised 1.8-litre K-series engine with Lotus's own management system. Despite having just 120bhp, 0-60mph took a respectable 5.6sec while the ride and handling were the stuff of genius. Then came the first variations…
For those craving more edge, early 2002 saw the debut of the Sport 135 (133bhp, 0-60mph in 5.3sec, also available as a stiffer-riding R version) and the seriously hardcore Sport 190, with its 187bhp VHPD K-series. With a wider audience in mind, they were soon joined by the 111S with the VVC K-series (156bhp, 0-60 in 5.1sec) and higher trims levels.
The big news in early 2004 was the introduction of the 1.8-litre Toyota VVTL-i engine, which in the new 111R gave a stonking 189bhp and dropped the 0-60mph time to 4.9sec. It came with a six-speed manual gearbox and, a first for an Elise, servo-assisted braking with ABS.
Keeping up? 2006 saw a new entry-level Elise S with a 134bhp Toyota engine and five-speed gearbox. At the same time the 111R was renamed R and there were detail improvements across the range, including the introduction of excellent ProBax seats. Then 2008 saw the first supercharged Elise, the SC (217bhp and 0-60mph in a mere 4.4sec).
In 2010 the range got a facelift and the basic Elise a new 1.6-litre 134bhp Toyota engine that was more efficient and came with a six-speed 'box. And in 2012 there was a new supercharged model, this time badged just 'S', with 217bhp and considerably more mid-range muscle, cutting the 0-60mph time to 4.2sec. It was, we said, an 'adrenalin pump'.
And yet the best thing about it – as with every S2 Elise – was its sublime steering, ride and handling. Whichever you choose, pure drivers' cars simply don't come much better.
Lotus Elise S2 driven
Elise S2 vs VX220 - 'The new Elise looks stunning; its stance lower and more purposeful than before. The minimalist interior of the original is superseded by a more heavily trimmed and stylised cockpit that looks more grown-up and is easier to get into.
'Both the Lotus and Vauxhall steer with light precision, grip tenaciously and show such poise over difficult surfaces that you wonder why we were so astonished by the original Elise just four years ago. The advances made here feel like the product of a decade's technical development.' – evo 027 (Jan 2001)
Elise 111R v VX220 Turbo - 'You can feel all the time and effort that's been put into honing this Elise. This model rides better than any other despite the 20 per cent stiffer springs. The gearbox makes a good impression too; light yet precise, it snicks positively through the gate.
'The VVTL-i unit even feels pretty torquey – without the bulk of a Corolla to lug around it lives up to the promise of its spec sheet. Only the tuneless blare and the limp brake pedal taint the car's feel-good factor.' – evo 066 (Apr 2004)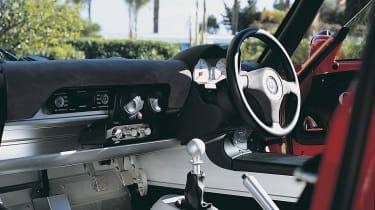 Lotus Elise S2 owner's review
Karl Kambites - 'When my Corrado was finally put beyond economical repair by general wear and tear, I decided to go back to rear-wheel drive for my daily driver. After test-driving everything from ageing 911s and Ferraris to new Caterhams, I whittled my shortlist down to the Elise S2 111S and, in 2007, won an eBay auction for a 2004 Type 25 with 27,000 miles.
'I've since covered about 25,000 miles in it. I didn't particularly intend to keep the car for as long as I have, but the combination of ride quality, feel and handling means I can't find anything else to replace it. Even the gearbox is something of a disappointment only until you realise it works rather well if you double de-clutch, at which point it just becomes part of the fun.
'Of course, the Elise isn't perfect. The driving position is fine if you fit, but with so little adjustability many people won't. 
'Running costs have proven remarkably low and depreciation is negligible, too. I have had a few failures, though, such as the head gasket – it is a K-series, after all. There's also been the heater resistor pack and the alternator voltage regulator, which took the battery out with it.
'Will I ever replace my Elise? I can't really see it happening – there's nothing that I'd prefer to be driving.'
>Find Lotus Elises for sale on Classic and Performance Car