Lotus Elise S2 buying guide - Lotus Elise S2 buying checkpoints
These are the things you need to know about buying the Lotus Elise
Lotus Elise S2 engine
Much has been written about K-series head gasket failures, but thanks to the Elise's light weight they're less likely to be an issue here. Jamie Matthews, Lotus sales manager at Bell & Colvill, says they usually result from mistreatment – revving hard from cold, for example. 'Check for white deposits on the dipstick,' he says, 'and check the temperature stabilises in the mid-80s.' Also check for cambelt services (every four years or 36,000 miles, whichever is sooner) or you risk an engine rebuild.
There's no belt on the Toyota unit, which Jamie describes as 'bulletproof'. Many cars have aftermarket exhausts, air filters, etc – nothing wrong with these per se, but the more standard the car, the easier the life it's probably led.
Lotus Elise S2 transmission
Gearboxes are generally robust, but Jamie advises to check the change from second to third from cold on supercharged Toyota-engined cars – if it crunches, the synchro's on the way out.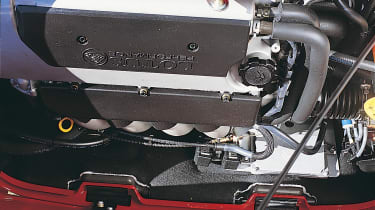 Lotus Elise S2 suspension, steering and brakes
'The Elise is a simple car and there's not a lot to go wrong,' says Jamie. So it's the usual checks for uneven tyre wear, disc and pad life, excessive corrosion on the wishbones (put the steering on full lock to have a good look), and any particularly nasty clonks on the test drive.
If the suspension needs a refresh, Bilsteins are best; Nitrons are also popular, particularly with trackday goers. A good clue to whether the car's been tracked is the towing eye. If it's pristine black all over, it hasn't; if the thread has lost its paint, it probably has!
Lotus Elise S2 body, interior and electrics
If air con is fitted, make sure it's blasting out icy air. Leaking pipes, particularly on '06/'07 cars, are common and a fix is  around £700. Check the body carefully for poor repairs, particularly under the nose. All Elises get the odd stone-chip, but anything more serious needs to be properly repaired by a specialist. Same goes for the aluminium tub. An HPI check is vital – if category damage is recorded and the structure hasn't been repaired/replaced by an approved Lotus centre, walk away.
Remove the soft-top to check the cables. If the car is fitted with a hard-top, check the soft-top's present too (a new one costs £600). Check the headlights for de-lacquering; replacing them will cost at least £300.
>Find Lotus Elises for sale on Classic and Performance Car