Win a ride in a Lotus F1 car!
Watch manufacturer TW Steel has teamed up with the Lotus F1 team to offer a chance to drive an F1 car...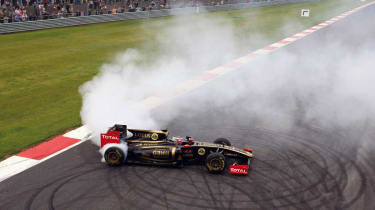 It isn't often that you get the opportunity to drive an F1 car, and watchmaker and Lotus F1 team sponsor TW Steel is offering one lucky TW Steel owner the chance to have a full day of professional tuition at the Paul-Ricard circuit in France, leading up to a drive in the Formula 1 car.
Second prize is hardly a step-down either. Winners will receive three-days of premium hospitality at the Italian Grand Prix, and third prize will win a 1:2-scale model helmet signed by a Lotus F1 team driver.
Okay, you have to buy a TW Steel watch before you are eligible to enter, but this is a prize money alone can't buy...
For more details on how to enter, visit www.twsteel.com/everysecondcounts