Lotus Elise S Cup announced
Lotus has announced a new road-legal version of the Elise S Cup R, called the S Cup. Details here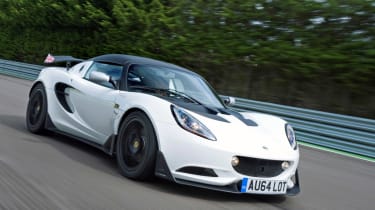 Lotus has confirmed that it'll be releasing a road-going version of its hardcore Elise S Cup R. Dropping the R from its title, the S Cup has been developed on the Lotus test track, Nurburgring and the public road to cater for driving enthusiasts who frequently visit the track.
Powered by the fastest available Elise engine, the supercharged 1.8-litre Toyota unit, the road legal track car produces 217bhp at 6800rpm and 184lb ft of torque at 4600rpm. With just 932kg of weight to lug around the revvy motor ensures the S Cup produces 230bhp per ton, accelerating it from 0-60 in 4.2sec and onto a top speed of 140mph. Power will be sent to the rear wheels through a six-speed manual gearbox with close track-focused ratios.
As a car primarily designed for fast track use, Lotus has carried over aero features from the R to give the S Cup a drag coefficient of 0.45. The front splitter, channelling side skirts and rear wing work with other details to produce 125kg of downforce at top speed. Emphasising the effect of the aero additions is the fact the standard, more slippery car produces a maximum of 8kg of downforce.
The added aero grip enables to the S Cup to lap the Lotus test track some 3sec faster than the standard Elise S. This is also thanks to a long list of technical details that give the S Cup the upper hand, including sports suspension with an adjustable front anti-roll bar, double shear rear track control arms and lightweight six-spoke T-type cast alloys of 16inch (front) and 17inch (rear) diameters. Sticky Yokohama Advan Neova tyres also help to increase bite, with 175 width fronts and 225 width rears ensuring the stripped out Lotus will be more nimble than the standard car.
Lotus' Sport mode Dynamic Performance Management (DPM) system will also be one hand to help trim laptimes and reduce the chances of a less experienced driver firing their new Lotus into the tyre wall.
Buyers can even make their Lotus more hard edged, with options for FIA approved race seats, four-point harnesses, a lightweight battery, an extinguisher and electric kills switches, 14-spoke forged sport alloy wheels wrapped in stickier Advan A048 LETS tyres, and a performance induction and exhaust system all available. Air-con, an MP3 radio, carpet mats, sound insulation, passenger footrest, aux-driving lights and central locking are also available for those with comfortable road use in mind.
Jean-Marc Gales, Chief Executive Officer of Group Lotus, said, 'the Lotus Elise S Cup is all about the pure driving experience with the Lotus attributes of high performance, light weight and excellent ride and handling. It is perfect for the driver who desires a quick, authentic, desirable and competitive sports car.'
The Lotus Elise S Cup is available from around £43,500, some £3,450 less than the track only S Cup R.