Lotus Exige S2
With the S Works long gone and no 'everyday' replacement on the horizon, I've been relying on the Exige almost exclusively of late. Much as I'd like to say that this involves pre-dawn B-road thrashes and heroic European adventures, the truth is I've done some pretty mundane journeys to Evo Towers, a few unlikely shopping trips to Waitrose (surprisingly you can get a good half-dozen bags wedged securely in the boot) and a 170-mile round trip trip to Hethel to see the Exige's bigger, badder Lotus Sport brothe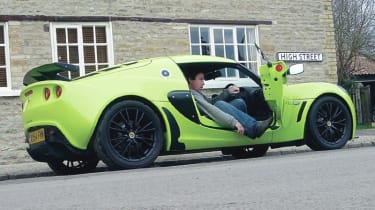 With the S Works long gone and no 'everyday' replacement on the horizon, I've been relying on the Exige almost exclusively of late. Much as I'd like to say that this involves pre-dawn B-road thrashes and heroic European adventures, the truth is I've done some pretty mundane journeys to Evo Towers, a few unlikely shopping trips to Waitrose (surprisingly you can get a good half-dozen bags wedged securely in the boot) and a 170-mile round trip trip to Hethel to see the Exige's bigger, badder Lotus Sport brother.
With the weather being typically inclement, that means I've covered significant mileage on wet, cold, greasy tarmac: not ideal conditions for a virtually slick-shod sports car. And yet the Lotus seems to muster uncanny amounts of lateral grip and traction from its Yokohama A048 rubber. Yes, caution is needed on the exit of roundabouts, particularly if there's a surface change but, odd tail waggles aside, the Exige is far from the skittish, flighty creature you might expect.
I have to confess to having a bit of a crisis about the Lotus Sport exhaust, thinking for a time that it was too much, but I've now decided its angry on-cam holler is the perfect partner for the frantic top-end transition and Dr David Banner complexion. In fact, having had the opportunity to chat with Lotus Sport boss Chris Arnold, and with the trackday season just around the corner, moves are now afoot to dip a little deeper into the factory upgrade inventory, with the fitment of some fully adjustable Öhlins suspension and, maybe, a limited-slip differential. Both promise to give the Exige even more edge on track without compromising its on-road ability, and as the upgrades are Hethel- developed, the car's pedigree isn't bastardised either. Watch this space.
The only downside I've encountered so far is chronic backache, but having spent regular time in the car, the level of discomfort seems to be diminishing. Either my pain threshold is getting higher, or my plate rack's getting used to the rigours of Exige ingress and egress. Either way, I'm relieved.
Upsides include the fact that the Toyota motor refuses to drink oil, despite living at 6000rpm and beyond, and the initially stiff gearshift has started to free-up. Squeaks and rattles are scant, except the roof panel, which creaks until the seals warm up a bit, while the chassis remains drum tight.
As a reward for 2500 miles of exemplary behaviour, and a precaution against the salt and grit of regular winter driving, I treated the Lotus to an Autoglym LifeShine treatment, in which a vast array of polishes and potions are professionally applied to the exterior and interior. Sceptical that the results would last beyond the first subsequent coating of grime, I'm pleased to report that much like the driving and ownership experience thus far, the bodywork's as-new lustre refuses to dim
Running Costs
| | |
| --- | --- |
| Date acquired | October 2004 |
| Total mileage | 2502 |
| Costs this month | £0 |
| Mileage this month | 565 |
| MPG this month | 28.5 |