Lotus Exige S2
Just as I'm sure many of you have planned expeditions to the Nürburgring Nordschleife, we've wanted to make our own Eifel pilgrimage for years. Something has always managed to thwart our plans. Now, though, our long-held ambition is about to be realised.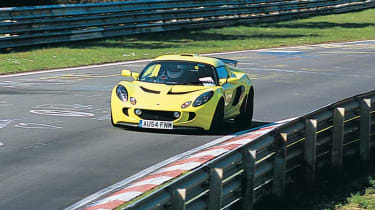 Just as I'm sure many of you have planned expeditions to the Nürburgring Nordschleife, we've wanted to make our own Eifel pilgrimage for years. Something has always managed to thwart our plans. Now, though, our long-held ambition is about to be realised.
Three evo Fast Fleeters are making the journey: my luminous green Lotus Exige, the menacingly monochrome Caterham R300, piloted by Roger Green, and our brand new, livid-hued Mustang GT, steered by ace snapper Andy Morgan.
I'm especially chuffed to be taking the Exige, for after much procrastination I finally got around to swapping its standard suspension for Lotus Sport's Öhlins two-way adjustable kit. Typically, having it fitted was all a bit last-minute, the work being completed at Lotus's Hethel, Norfolk base just 24 hours prior to our departure for Germany, but in truth the timing couldn't have been better.
It's the perfect preparation for the 'Ring. Once the new dampers are fitted, along with Pagid pads and synthetic brake fluid (the work takes the best part of half a day) the chassis is gone through with a fine-tooth comb, with all the camber, castor and toe settings checked and adjusted, along with the ride height, which is dropped by 20mm.
Having completed a few laps of Hethel in the morning with the standard suspension, Lotus chassis engineer Matt Becker and I go back out onto the track to establish a set-up I'm happy with. It soon becomes clear that adopting the factory race settings at the front is the way to go, as the nose feels super-responsive and totally planted, but the rear takes a bit more tweaking, as the race settings are usefully lively through the tighter corners but a bit too twitchy through fast direction changes. In deference to tomorrow's destination, we come back a few clicks from the rear-end race settings and find the security we're looking for.
Becker reckons the Öhlins kit is worth up to 0.75sec per lap around Hethel, a useful gain for an already track-honed car. Such improvements come at a price, though - with the brake pads, fluid and set-up, a tear-jerking £2556 including fitting and VAT - but if you're serious about your track driving, it really does take the Exige to another level.
Right now, though, ultimate dynamics are of little relevance, as there's the small matter of 450 tedious motorway miles between us and Nürburgring nirvana. Not that this seems to faze Mr Green. With earplugs inserted and beanie hat pulled down tight, he positively revels in acting as point man during the 140-mile M11/M25/M20 schlepp from Evo Towers to Folkestone and the Channel Tunnel. Weirdo.
With the Exige lower than standard, the Chunnel ramps and speed humps are worrying me. However, by using our time-honoured scam of heading for the high vehicle and motorcycle lane, we avoid the splitter-scrunching ramps and drive onto the single-decker carriages without incident.
We must make for quite a sight as we blat across the expanses of France. It's amusing to clock the reactions of other drivers as they do single, double, then triple-takes as flashes of white, green and red pass through their peripheral vision. Crossing the French-Belgian border is a strange experience, the deserted buildings and makeshift concrete barriers looking positively east-European. The road surfaces are pretty nasty too, with a horrid mix of potholes and shiny concrete and tarmac. In the rain it must be really nasty.
We stick to our respective steeds for the duration of the journey, eager not to break our rhythm, nor to give Green a chance of getting out of the Seven. That said, with the Seven's miserable range turning the journey into a pan-European petrochemical pub crawl, we never seem to drive more than 90mins between fuel stops anyway, so there's ample opportunity for Rogero to regain some feeling in his legs and slap some cream on his sunburnt noggin.
No such trouble for Andy, bringing up the rear in the Mustang, but despite the comforts of a roof, cushioned seat and booming stereo, Morgan's bothered. He reckons he feels like the fat brother of our trio, huffing and puffing in the wake of his lithe, athletic siblings. If it wasn't for the fact that he's actually 8ft tall and built like a broom handle I'd sympathise, but in truth the Mustang's doing a great job. In fact, as it's carrying most of our luggage, could cruise faster, and can easily double the Caterham's miserable fuel range, it's us that's holding him up.
Green knows a good route to the 'Ring, and it's a relief when we peel off the motorway and onto the smooth, sweeping German country roads that take us to Prüm and then to Nurburg itself. Somewhat ungratefully, he and I take this as a cue to cut and run, the Seven and Exige at last able to assert themselves over the Mustang. For the first time in our journey, Andy's analogy is entirely accurate.
It's an inspiring way to end what's been a very long day's driving. Suitably enlivened, we arrive at the charming Agnesen-Hof hotel in Barweiler, just 10mins from the circuit, and enjoy a warm welcome, great food and a few cold beers before hitting the sack in preparation for an action-packed couple of days.
Next morning dawns dry, bright and clear, but we have a shock when we go to our cars. There's a thick layer of ice covering the roofs and windscreens, something we hadn't bargained for in late spring. Cue nervous laughter all-round as we vow not to be the first out of the paddock.
On our way to the circuit we stop at the famous Döttinger Hohe filling station to brim our tanks, and our jerry cans, with super unleaded. From there it's no more than a mile or so before we burble into the old paddock. It's a fantastic sight: a shimmering row of RSs and GT2s of various generations, a certain black Carrera GT you might recognise from issue 080, the odd Ferrari, snargling R500 Caterhams, buzzy Radicals and beefy M3 CSLs.
The R300 and Exige fit right in, but amusingly it's the Mustang that draws the most attention, along with a few quizzical looks from the marshals. After the drivers' briefing, we're free to start lapping. Predictably there's a flurry of activity as the keenest drivers fire-up and join the queue to get on track. True to our words, Rog and I decide to wait a while; after all, there's six hours or so of tracktime today, with another five tomorrow.
Such conservatism is a luxury that only a private trackday can provide. They're rare, but events such as the one we're attending, organised by RMA (www.rma-limited.com), are by far the best way to get the full Nordschleife experience. Not only do they offer the chance to drive proper flying laps, rather than the single, incomplete 'Bridge to Gantry' laps you get on public days, but they also provide more track time, less traffic, better safety (thanks to a team of marshals) and no crazed locals on Suzuki GSX-Rs. Good things all.
When we do take to the track I immediately have something of a Eureka moment. Not only does the Exige feel absolutely sensational, but all those 'wasted' days spent playing Gran Turismo 4 instantly pay off. Those hundreds of virtual laps mean I know exactly what's hiding over every crest and brow, despite having very little actual lapping experience.
It's a level of intimacy I'd have struggled to reach in two days of actual driving, but wary of how narrow the track is and how unyielding the Armco looks, I still spend the first lap checking everything really is where I think it's going to be. It's a wise decision, for some sections of the circuit in GT4 are foreshortened, and the gradients are more severe, but it's still a massive boost to confirm that I know where the circuit goes. Of course, I'm realistic enough to appreciate that rain would make the Nordschleife a much more savage and complex beast to tame, but as the weather is glorious I'm free to get on with enjoying myself.
It soon becomes clear that the key to enjoying your time at the Nordschleife is to relax into the day and allow your speed to come gradually. Despite the circuit's legendary length, laps seem to go in an instant. Both Roger and I find that three-lap stints are the most fun: an out-lap to focus your mind, a flyer to nudge closer to the limits of yourself and your car, and an in-lap to let everything cool down, at least during the latter few miles. On your return to the paddock you'd swear only 10mins have elapsed, but a look at your watch will tell you it's closer to half an hour, such is your level of concentration and enjoyment.
There can be few greater contrasts than tackling the Nürburgring in a Exige and a Seven. The Lotus is a fabulous blend of slick-like grip, powerful braking (thanks to the new pads and fluid) and absolute precision. And because the circuit is fast and flowing, with only the Karussell to severely interrupt your flow, the notoriously peaky Toyota engine is much easier to keep on the boil. It's a great car to build your confidence with, as it has the pace to remain interesting once you've got into the groove but has the composure and reserves of grip to be a forgiving partner while you're learning.
Each lap is packed with memorable moments, but the flat-out-in-fifth run plunging down through the Fuchsröhre or Fox Hole never fails to get the adrenalin pumping, while the combination of Lotus feel, Öhlins control and Yokohama grip shines in the repeated direction changes during the climb up from the Karussell through Hohe Acht then down through the helter-skelter of Wippermann and Brünnchen, allowing the Exige to harry far more powerful machinery.
By contrast the R300 is a riotous, unnerving machine, at least for the first lap or so. Where the Exige is all about the front-end, the Caterham suffers from so much lift that through the faster corners you'd swear you're going to go straight on. Only when you learn to turn-in a bit earlier to compensate, or lift a little to send some weight forwards and get the tail doing some steering, does the Seven come alive. Intermediate gears last no time at all, and for most of the lap you seem flat-out in sixth, the angry, gruff K-series battling against the Caterham's barn-door aerodynamics.
Over a lap the Exige is the quicker car, thanks to its higher top speed and better front-end bite. There's not much in it, though, and it's fascinating to follow Green for a lap and witness the Seven walk away from the Exige whenever the overly-peaky Toyota engine is caught napping, then regain the lost ground through the medium-speed corners and longer straights. Both are enormous fun, but it's a sure sign that familiarity has grown when both leave us craving more grunt. Wonder if Lotus Sport will retro-fit me a 240R supercharger?
As you'd expect, though, the most impressive aspect of our trip is the Nordschleife itself. No matter how high a pedestal you've put it on, the Nürburgring will never disappoint. If you've always promised yourself a visit, don't delay; whether you go for a public evening or full-on private trackday, you're guaranteed to meet some great people and enjoy your car like never before. If you're a true petrolhead, there really is nowhere else like it.
Running Costs
| | |
| --- | --- |
| Date acquired | October 2004 |
| Total mileage | 4631 |
| Costs this month | £2556 |
| Mileage this month | 1532 |
| MPG this month | 26.2mpg |