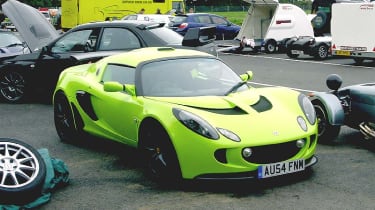 The Exige's first birthday party has put something of a dent in the Meaden finances, thanks to insurance, road tax, servicing and new tyres all being required within a matter of a few weeks. That little lot totals more than £1600, but it also means it should be another year before I have to face any major bills. At least that's the theory.
A Caterham-owning friend had suggested some time ago that we should both go to a trackday, and so with the Lotus back in factory-fresh fettle I decided it was time to take him up on the offer. The venue was Cadwell Park, the day run by Surrey-based BHP Trackdays (www.bhptrackdays.co.uk). For just £150 we had full use of the fabulous Lincolnshire circuit, the open- pitlane format allowing free lapping for as long as you like.
It's hard to make a quiet entrance to the paddock in the Exige, what with its loud Stage 2 exhaust and even louder paintwork, so it was no wonder a few of the BHP regulars recognised the car and its evo connections. Great, no pressure then! However, it fitted right in with the rest of the attendant machinery, which included a Lotus 340R, a fire-spitting Tuscan Challenge-engined TVR Chimaera, mouth-watering Caterham R500 complete with Quaife sequential gearbox, and a certain Mr Litchfield in his newly tweaked '06 Impreza 'Type 20'.
Cadwell is often likened to the Nürburgring Nordschleife, and with good reason, as both share wooded sections, big gradient changes and a distinct lack of run-off, but after my first few laps I'd say it's Lincolnshire's 'Ostschleife' that's trickier and less forgiving! It really is horribly narrow, so narrow in fact that overtaking relies heavily on co-operative driving, and the line through each corner is something that has to be adhered to religiously if you're to avoid a grassy moment, or worse.
The Exige's peaky engine and long gearing didn't prove as much of a handicap as they had at Anglesey, but it still needed working hard to keep on the boil. As ever, its precise, biddable chassis and abundant grip were to the fore, making it a great partner on a circuit that demands pinpoint accuracy and punishes cars with scrubby understeer. I wasn't expecting a marked improvement on the fresh Yokohamas but it was much more responsive, progressive and tenacious than on the thinning originals, while the Pagid brake pads continued to deliver truly impressive stopping power and a firmer pedal.
Despite living at 8000rpm for a total of 40 laps (not to mention a good part of the cross-country drive from Northants), the dipstick level remained static. Working an engine so hard, you expect to have inflicted some kind of wear, but the 1.8 VVTi engine continues to sound as sweet as ever, testament to Toyota's fine tolerances and absolute reliability. That it also happily returns 30mpg on a run and is only marginally more thirsty on a trackday is also heartening, especially in these dark days of the £5 gallon.
The return journey was great fun, too, the fast, undulating roads of the Lincolnshire Wolds allowing the Exige and Seven to make swift, scything progress. It also served to highlight the Exige's added practicality, for while my mate Tim scanned the heavens nervously before donning his best Scott of the Antarctic gear for the roofless 90-mile drive home, I remained in shirt sleeves and wound a few more degrees of heat into the air-con. After the rigours and total impracticality of my old Fireblade Caterham, having a roof, doors, windscreen and heater magnified my sense of smugness. As the Exige and I enter our second year together, I get the impression it's a feeling that's set to continue.
Running Costs
| | |
| --- | --- |
| Date acquired | October 2004 |
| Total mileage | 6299 |
| Costs this month | £1688 |
| Mileage this month | 426 |
| MPG this month | 28.5mpg |