243bhp BBR-tuned Mazda 3 diesel launched
Tuning firm BBR can offer 243bhp upgrades to Mazda diesel models, taking the 3 2.2 diesel into true hot hatch territory.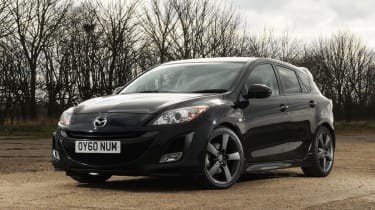 UK-based tuning company BBR has announced a new range of tuning options for the Mazda 3 diesel models – with a headline 243bhp and 392lb ft of torque for the 2.2-litre diesel models.
The tuning company has been tuning the Mazda 3 MPS for years, as well as offering popular turbo and supercharger conversions for the MX-5. This latest range of upgrades focuses on the 2.0 and 2.2-litre turbo diesel engines fitted to the 3, 5, 6 and CX7 models.
BBR's Phase 1 upgrade boosts power to 219bhp for the top 2.2 models, and includes a custom ECU re-map and calibration on the company's in-house chassis dynomometer. The basic price is £499, with the option of a DIY ProEcu programming kit for £599.
Replacing the standard turbo with a new modified hybrid unit, as well as the addition of a free flowing air filter as well as a further ECU remap constitutes the Phase 2 upgrade, and increases power of the 2.2-litre diesel engine by 62bhp – making a total of 243bhp. The huge increase in torque, swelling to 392lb ft, eclipses that of the 280lb ft 3 MPS model. The upgrade can be supplied for £1199, or fitted by BBR at £1499.
As well as just booting power, BBR can also offer lower springs, as well as Koni top adjustable dampers for all 3 models.