Let's be honest, there is only so much appeal a family hatchback with 121bhp can possibly have in these pages, but for reasons we'll get into, the Mazda 3 is actually quite interesting. This is not because of innovative new powertrain tech (that will come), next-generation electrification or connectivity, but because the Mazda 3 has achieved something no mainstream front-wheel-drive commuter hatchback has any right to. It's desirable.
The distinctive styling is an obvious source of this, and although some people are less than complimentary about it, in the flesh the 3 is distinctive, with plenty of well-thought-out details. In fact, in the current market of crowded fascias, fake vents and the horrendous notion of 'sporty' trim levels, the Mazda's design is a refreshing one, with a near-perfectly formed aesthetic - Japanese, but not cliché, and if nothing else proof of Mazda's confidence.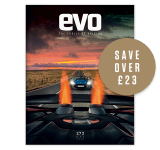 Subscribe to evo magazine
Subscribe today to have every issue of evo delivered straight to you. You'll SAVE 39% on the shop price, and get evo for its original cover price for a whole year!
The 3 is by no means perfect – there might be one or two key flaws that keep this car from receiving true widespread acclaim, but as a modern, affordable, desirable family car, in the presence of misguided SUVs and mass platform sharing, the new Mazda 3 might just be the type of car we all really need.
Engine, performance and 0-60 time
At launch the Mazda 3 will be available with two engine choices – a 2-litre naturally aspirated petrol and 2.2-litre diesel. The petrol develops a meagre 121bhp, and thanks to the conspicuous absence of a turbo requires plenty of revs to extract it. Torque is also light, with a peak of 157lb ft developed at 4000rpm. The diesel typically has more torque, with a peak of 199lb ft between 1600 and 2600rpm, but power is still quite low, at 114bhp.
The Mazda 3 then, as one might expect, is slow. But then a 115bhp Golf is no firecracker, and it must be remembered that this is in fact the entry-level engine choice, as more potent powertrains are still to come. Still, the petrol is crisp and actually quite nuanced in its delivery, with a progressive build of power and without the thrashy top end some Mazdas used to possess. If you've driven a turbocharged rival hatchback recently, especially one with a dual-clutch transmission, the constant drive for reduced emissions has created a sometimes shocking amount of slack between the powertrain components. The 3's petrol drivetrain doesn't suffer the same ailments; it's no Porsche 911 GT3, but it's refreshing to have some semblance of response in a non-sporting hatchback. There is one note though, to make progress one has to be prepared to rev, and rev.
Thankfully, Mazda's swift six-speed manual transmission is a pretty good pairing, with a short throw and accurate gaiting. It's not quite as deft as the unit found in a Honda Civic, but comes very close. The six-speed automatic is of the traditional torque-converter variety, and although it struggles to match a dual-clutch's shift speed, it's a much smoother transmission at low speeds, even when compared to VW's slick wet-clutch DSGs. The diesel is brawnier and mostly refined, but has a pretty laid-back power delivery and suffers from turbo lag that is accentuated by the extremely long gearing.
The somewhat limited engine range will be topped with the eagerly awaited Skyactiv-x compression-ignition petrol engine later this year. Final outputs for the UK have not been released, but the supercharged engine should build on both power and torque over the standard 2-litre petrol, while improving on fuel consumption. This really is a breakthrough technology, unique to Mazda, and should provide the extra guts the 3 is crying out for.
Technical highlights
Mazda's new 3 is based on the company's new front-wheel-drive architecture. Unlike a majority of its rivals, this new model has ditched the multi-link rear axle in favour of a simple torsion bar. Rather than being a cost-cutting or space-saving decision, the rear axle's simple set-up has been fitted for the improvement of 'road feel'. Some (i.e. us) might want to call Mazda out on this, but engineers are adamant the reduction of input forces from the rear axle improves front-end feel.
The package is otherwise pretty standard – front-wheel drive is standard in the UK, although other markets do have the option of all-wheel drive. The engine is mounted transversely, with the transmission sitting alongside. The structure is now stiffer than before, and noise levels have also been a focal point of this new model, with far better insulation from road, engine and wind noise than before.
The interior is a big leap for the Mazda 3, as its design, execution and technology are streets ahead of not just the previous model, but just about every other mainstream car too right now. The surfaces are plush, the shapes dramatic, yet simple. It's a masterstroke of interior design, and doesn't only promote the 3 to levels above the Focus and current Golf, but one that shows up supposed premium players for interior ambiance. Unlike a Mercedes-Benz A-class, which hides its questionable use of materials behind glossy screen interfaces and an overuse of coloured ambient lighting, the 3 is as finely wrought and delicate as an Eames classic armchair, with materials equivalent to those in Audis and Volvos.
There is real substance here too. The seating position is excellent, the seats themselves superbly supportive and comfortable, and each digital interface perfectly formed and complementary of its surroundings. The infotainment system is all-new, and might lack a depth of capability in comparison to something like Mercedes' new MBUX system or BMW's iDrive, but is a massive step up from the previous Mazda system, and much nicer to use than anything its mainstream rivals offer. The screen is low and wide, but perfectly formed. Mazda has also removed its touchscreen capability, instead it's controlled via a click wheel by the transmission lever. Rather than a downgrade, it affirmatively answers our constant criticisms of trying to operate touchscreens on the move. Why is no one talking about this?
What's it like to drive?
On the road is where the Mazda 3's relatively humble underpinnings start to show. It's refined, but there is a feeling that where a Golf or A-class feel capable of handling three, or even four hundred horsepower, the Mazda's chassis just lacks that robustness that German rivals have engineered in.
The Mazda 3 is impressively damped, and that torsion bar rear axle doesn't really make itself known until the road gets really challenging, but there is still notable movement to the body that knocks your confidence to really attack a road. The steering is partly to blame, as it lacks the resolute sharpness of that of a Focus, although it is more trustworthy than the ultra-light helm on a basic Golf. The Mazda's issue lies instead with its balance, which heavily loads the outside front tyre on turn-in, the body movement almost rolling over the top of you from behind when entering a corner. It's not a million miles away from the feeling in an MX-5 in fact, but where one can drive through that roll in the little roadster, the Mazda 3 just doesn't have the power or correct driven wheels to overcome it. It's still a sharper car to drive than most in the class, but the Focus still has the edge.
Turn the pace down and the Mazda's core ability does reveal itself, as the ride is remarkably settled, while cabin noise suppression is good. The control weights all coincide with one another too, making this a car that requires little time to acclimatise to. The engine's performance is acceptable, but the long gearing doesn't help, and often requires you to go in search of the power. The diesel is one to avoid though – its delivery is smooth enough, but doesn't offer an appreciable hike in grunt, and often falls into zones of massive turbo lag, thanks to the enormous chasms between gears.
Price and rivals
The new Mazda 3 starts from £20,495, and rises to £26,975 for the loaded GT Sport Tech fitted with an automatic transmission. Most models are well equipped from the off, with that smart infotainment system, LED headlights, a head-up display and alloy wheels as standard. Higher trim levels then add a heap more equipment, with highlights including adaptive LED headlights, a great Bose sound system, plenty of active safety and a 360-degree parking camera.
Most rivals are far more diverse though, with models like the Ford Focus and Golf offering a wider spread of trims, engines and bodies to choose between. As a result, the Mazda 3 will likely be unlikely to fit quite such a vast variety of applications as those cars, and instead focus on a rather more specific set of buyers.
If there is a Mazda 3 that fits your requirements, you will not be disappointed. It's not perfect, it's not the most practical, nor the most fun to drive, but it is clear that Mazda's focus with the new 3 was incredibly clear and concise. Pack in a more talented powertrain, maybe some extra precision to the chassis, and the 3 might just be a winner.