We've already driven, rated and rather liked the new Mazda 3, an innovative and vibrant model in what is ostensibly a pretty bland market segment. If there was one fly in the Mazda 3's ointment it was the powertrain. Of course, we were told on launch that the weedy 121bhp Skyactiv-G petrol was in fact the entry-level engine, with an all-new and highly innovative powertrain to eventually arrive topping the standard hatchback range. 
Cue the new Skyactiv-X engine, a clever take on the internal combustion engine, combining the best bits of petrol and diesel characteristics into one new unit. Put simply, the Skyactiv-X is a petrol engine that can both compress and spark ignite its fuel, essentially fielding the benefits of both engines in one unit.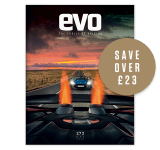 Subscribe to evo magazine
Subscribe today to have every issue of evo delivered straight to you. You'll SAVE 39% on the shop price, and get evo for its original cover price for a whole year!
We'll get into the facts and figures below, but talking in a broader sense the Skyactiv-X's 178bhp power figure should also give the Mazda 3's chassis a little more to work with, stitching up the gaping hole in the 3's repertoire.
Engine, transmission and 0-60 time 
The new Skyactiv-X engine will top the current Mazda 3 range, and should spread within Mazda's wider model range over the next few years. Although the sound of a supercharged petrol engine might sound pleasingly akin to a hot hatchback, the restrained 178bhp power output instead merely aligns it with other top-spec mainstream rivals such as a Focus or Golf.
As it currently stands, the Skyactiv-X engine will be available with both six-speed manual and automatic transmissions, as well as (for the first time on a Mazda 3 in the UK) an optional all-wheel-drive system. The six-speed manual is Mazda's usual affair, feeling tight, exceptionally well controlled and accurate. For the first time, Mazda has introduced a new technology to help smooth out up-changes with the manual transmission. The technology simply controls the revs as you engage and disengage the clutch, working in essentially the same manner as an auto-blip function, but on the way up through gears rather than on the way down.
The six-speed automatic is of a traditional torque-converter type and despite lacking the sheer number of ratios found in most rivals, is very well calibrated, never aimlessly hunting around for gears or getting overly bogged down – something that's not a forgone conclusion in this era of dual-clutch and nine- or even ten-speed autos. Slip the gearlever to manual mode and when in Sport mode the transmission reacts in good time, if ultimately lacking the crispness of the best dual-clutch 'boxes. The flip side of this is the superior low-speed refinement and smoothness often lacking in a DCT. We've yet to drive an all-wheel-drive variant.
Acceleration times are class average, with the manual variant reaching 62mph in 8.2sec, and the automatic taking a further 0.4sec. For reference, a Ford Focus with its own 178bhp turbocharged triple takes 8.3sec.
Technical highlights
Consider Skyactiv-X a new principle, rather than ground-up architecture in engine design, as Mazda claims that very little of the powertrain's hardware is bespoke, rather a combination of elements from its existing petrol and diesel units. This is perhaps not Mazda's eureka moment in internal combustion engine design, but it is a worthy and important step forward in powertrain development.
How does it work? The engine effectively burns a very, very lean air-to-fuel mixture in the combustion chamber through compression ignition, rather than a spark. This not only reduces the amount of fuel used in each combustion cycle, but also reduces temperatures in the cylinder, improving thermal efficiency and reducing pumping losses in one fell swoop. Helping the compression ignition system along is a small supercharger, ramming yet more air into the cylinder at low rpm. 
It still does utilise a spark plug on cold start and really high loads, but keep an eye on the little display telling you the combustion type and you'll see the engine runs on compression a vast majority of the time, with the switch between the ignition systems almost imperceptible. The engine works in conjunction with a mild-hybrid system, feeding a small battery pack through a 24V electrical system, but it's not quite powerful enough to support engine-off coasting or torque fill at low speeds.
All of this effort to save fuel and reduce CO2 has had a positive effect thankfully, as although we rarely report on such things, a Skyactiv-X hatch will slip underneath 100g/km of C02, and on the latest WLTP cycle top 51.4mpg – an achievable 51.4mpg. Once again using a 178bhp petrol Focus as reference, it too posts a WLTP figure of 51.4mpg, but in real-life driving the Focus has a much bigger challenge matching those on-paper figures, thanks to its fuel-sucking turbocharger. 
What's it like to drive? 
To anyone other than a powertrain engineer, the Skyactiv-X feels entirely normal. In fact it feels exactly as the figures portray – the relatively light 165lb ft of torque keeps it from feeling particularly fast, but keep your foot pinned and it feels about right for its 178bhp power figure. If you were expecting something more sporting then it might feel slightly disappointing, especially when you read there's a supercharger as part of the package, but as a top-specification engine on a normal hatchback, the Skyactiv-X is plenty fast enough.
Despite the diesel-like ignition system, the 2-litre pulls cleanly from low revs, with no clatter or knocking. In fact, Mazda has engineered a surprising amount of engine noise to enter the cabin, focusing on the second, fourth and sixth firing orders. It's noticeably louder than standard Skyactiv-G models, and while not particularly tuneful, it's never thrashy or unpleasant. This comes as somewhat of an unexpected element of the package, as it's not designed to be a sports model, and instead has a new focus on ultimate refinement and noise suppression.
Still, in context with the Mazda 3's willing chassis, snappy transmission and overall polish, the package equates to a desirable one. This might not be the breakthrough some were hoping for, but as a worthy stepping stone towards a cleaner type of internal combustion engine it's certainly a valid, even commendable one. 
Prices and rivals
For such new technology, the Skyactiv-X doesn't represent such a leap over the equivalent Skyactiv-G in terms of cost. Spec-for-spec the new engine will set you back an extra £1895, making the least expensive hatchback sport model £23,555 on the road. Specify the six-speed auto and you'll have to find a further £1540, with all-wheel drive adding a final £1500 to the cost. Still, the Mazda's prices remain very much mainstream despite its premium ambitions, and specify an equivalent Ford Focus to a similar level and it'll actually be priced even higher.
To drive, the Focus might still have a very subtle edge thanks to its more feelsome steering, but it can't get close in terms of interior ambiance, refinement, style or tech. In fact, the Mazda outguns many premium rivals in these stakes too, whilst costing significantly less money. 
If you're after a normal car, but one that still adheres to the principles of driving well, the Mazda 3 is pretty hard to overlook. Combine this with its originality, underlying innovation and the inherent appreciation Mazda has for making its cars as good as they can be, there is little that can be taken away from it. Now it just needs an extra 100bhp, a limited-slip diff, and maybe a Mazdaspeed badge on the back and it'll find itself well inside our good graces.