Win an exclusive Mazda MX-5 print
A chance to win an exceptional piece of Mazda MX-5 inspired art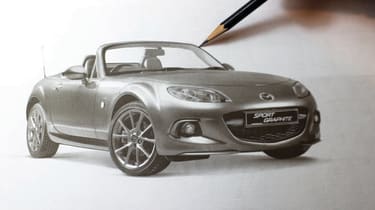 Back in the 1980s, everyone thought the two-seater sports car was dead. Everyone except Mazda, who set about reinventing the genre.
What they produced was a pure-bred, rear-wheel-drive joy. The MX-5 turned the enthusiast motoring world on its head. And what's remarkable is that three decades and several evolutions later, it's still the same pure driving machine it's always been.
Mazda is celebrating the MX-5 with a new Sport Graphite special edition, combining the roadster's thrills with extra exclusivity and unique style. And Mazda has teamed up with artist Paul Cadden to capture the Sport Graphite with his pencil, his work so lifelike that it's often mistaken for photographs.
And you can own a piece of it. Mazda and evo are giving one lucky reader the chance to win Paul's original drawing. Click here to enter.