McLaren quiz – how well do you know the British supercar maker?
Can you correctly answer questions about the McLaren F1, P1 and more?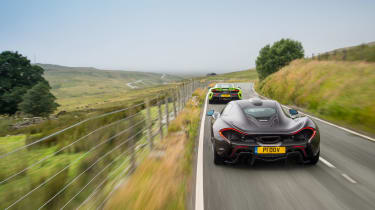 It's been five or so years since McLaren launched the MP4-12C, later renamed to just 12C. The car's carbonfibre tub, ingenious chassis and powerful 3.8-litre twin-turbocharged engine were sufficient to get people's attention, and were certainly enough to worry Ferrari.
Of course, the MP4-12C wasn't the first McLaren to upset the supercar establishment. In 1992 McLaren unveiled its incredible F1. Its central driving position, naturally aspirated 6-litre V12 and 240mph top speed were enough to see it declared one of the greatest cars of all time. The MP4-12C didn't follow in the footsteps of the F1, though. As impressive as the 12C was, we didn't fall for it in quite the same way as the F1, but then again it wasn't a record-breaking hypercar.
The 12C may not have walked away with every award and group test win but McLaren's subsequent models have shown how the firm has matured over the past few years. This is perhaps best demonstrated by the McLaren 675LT finishing second in our 2015 Car of the Year test. It was placed ahead of the latest Porsche 911 GT3 RS, a car that in previous forms had won every eCoty test it had taken part in. McLaren's junior supercar, the 570S, has also proved to be a tough contender, beating the Audi R8 V10 Plus and Porsche 911 Turbo in an evo test.
In the spirit of McLaren's current ascendency, we've created a quiz that's just as formidable. Good luck.