Ron Dennis re-appointed McLaren's CEO
McLaren Chairman Ron Dennis promises 'change' as he returns to his role as Chief Executive Officer of the McLaren Group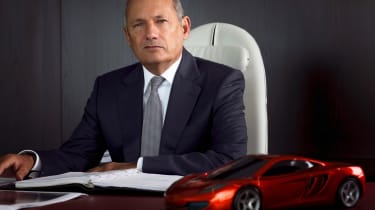 The new CEO proclaimed that McLaren's F1 team 'will win again' whilst announcing his return to the racing side's management, forcing current Team Principle Martin Whitmarsh out of the role.
With rumours suggesting Dennis disapproved of several of Whitmarsh's management decisions, the 55 year-old's career at the legendary British racing team could be at risk as Dennis hunts for ways to bring fast improvement.
'My fellow shareholders have mandated me to write an exciting new chapter in the story of McLaren, beginning by improving our on-track and off-track performance,' Dennis explained during the staff announcement in Woking.
'I am excited by the prospect of returning to the role...to fulfil our objective – which is to win at whatever we do.'
It is widely rumoured that Dennis had been trying to organise a board meeting to discuss management for some time, though his fractured relationship with the board meant little progress was made to achieve this. But with the sacking of Sergio Perez and following announcement of his rookie replacement, Kevin Magnussen, the poor form of 2013 was clearly something the board would be prepared to make brash choices to avoid repeating.
Experiencing its worst Championship since 1980, neither McLaren drivers managed to step onto the podium throughout the entire season. The team's best result came at the finale in Brazil where Jenson Button crossed the line in fourth, although he was almost 40 seconds behind race winner, Sebastian Vettel. McLaren haven't won a Championship since 2008, Ron Dennis' final full year as Team Principle.
In order to bring improvements to the Woking outfit, rumours that Ron Dennis had discussed the prospect of Ross Brawn returning to F1 with the team have lost momentum, since the recently departed Mercedes Team Principle decided to take a six-month sabbatical, suggesting he's in no hurry to make a decision.
But with Dennis having played a pivotal role in developing the modern McLaren team, his promise to 'optimise every aspect' of the Group will surely come with large amounts of expectation.
With the team's 2014 racer, the MP4-29 set to be unveiled to the public on 24 January and pre-season testing commencing the following week, McLaren's F1 charge for the upcoming season is already well underway. Therefore it might be some time before Dennis' influence has any significant influence on on-track performance.