McLaren MP4-12C video review
Chris Harris drives the stunning new McLaren MP4-12C in Wales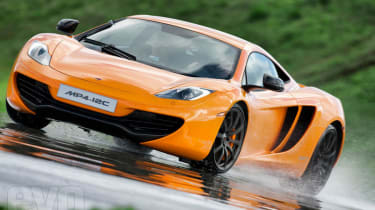 What is it?
The new McLaren MP4-12C, rival to the Ferrari 458 Italia, offspring of Ron Dennis. It costs £168,500, so is cheaper than the Ferrari, too.
Technical highlights?
No roll bars, no LSD, hydraulically supported and connected suspension, adaptive dampers, a little under 600bhp, 1301kg dry, carbon tub, optional ceramic brakes, brake assist, twin turbochargers. More technology than we've ever seen in a sports car before. What's it like to drive?
Unlike any other sports car because it separates the roles of ride and roll-stiffness. On a straight, bumpy road, it's more comfortable than a Merc E-Class, change direction and it's sharper than a GT3. There are 3 chassis modes: comfort, sport and track which bring increased roll-stiffness and more relaxed intervention from the ESP. The powertrain is remarkable in its strength and ease-of-use: the MP4 is noticeably quicker than a 458, doesn't feel that turbocharged and makes a great noise. Crucially, you can separate the chassis functions from the powertrain (again, comfort, sport and track) so it's possible to have sharp throttle response and faster gearshifts, with supple suspension. It is the most talented machine I have ever driven.
How does it compare?
To what? I mean can you think of an obvious rival? Only kidding – it's faster than a Ferrari 458 Italia, has more useable performance, rides better, has more mechanical grip and is much, much more useable.
Anything else I should know?
Yes - that no one understands the emotional side to these machines like Ferrari does, and the MP4-12C, for all its brilliance, serves as a reminder. It's not unemotional, it sounds great in 'track' mode, it steers beautifully and its engineering is intriguing – but it is a car you admire deeply rather than one you sell your family to own. As you can tell, I need more space to tell this story…
See our huge McLaren MP4-12C picture gallery McLaren MP4-12C versus McLaren F1
Road test of its predecessor, the mighty McLaren F1