McLaren 12C Velocita Wind Edition
Supercar tuning company DMC has unveiled a new styling kit for the McLaren 12C, called the Velocita Wind Edition. Details here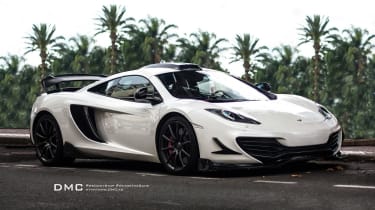 DMC has released specs and images of a new customisation kit for the McLaren MP4-12C. Named the Velocita Wind Edition, the kit comprises aero-focused carbonfibre parts and an ECU remap to give the 12C more power than its successor, the 650 S.
The German car modifier claims that after uploading its new map, the 12C's 3.8-litre twin-turbo V8 produces 650bhp and 502lb ft of torque, an increase of 34bhp and 60lb ft on the last available 12C and some 9bhp and 2lb ft more than the 650S.
DMC has also developed a new carbonfibre roof scoop that heads a new rear wing, along with a new front lip, front spoiler and a set of front dive plates. Along with air channelling side skirts and the large rear diffuser, DMC claims the Velocita Wind Edition kit works to further enhance the levels of grip yielding downforce available from the now discontinued supercar.
Inside, not much has changed, though the dash has been wrapped in soft Italian leather to add an air of luxury to the already performance focused interior.
The result is a car that's not only faster and more luxurious, but also looks reminiscent of a GT3 racer ready to tackle the Nordschleife. Though prices for the kit remain unconfirmed, the fact the pictured car is parked along the French Riviera suggests the cost will ensure the kit remains fairly 'exclusive.'