Best McLarens ever - we test them all from F1 to P1 GTR
From F1 to P1 GTR, via SLR, 12C, 675LT and more. We've brought together every McLaren road car for a world exclusive test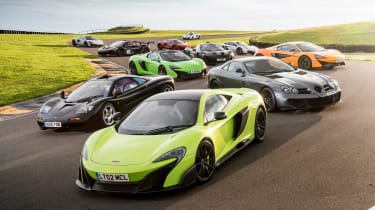 Whether you're talking about Formula One, record-breaking road cars or, nowadays, some of the best supercars in the world, the name McLaren is sure to come up. With the racing car division founded by Bruce McLaren in 1963, and the road car division founded by Ron Dennis in 1985, very few companies have enjoyed such a successful renaissance period - in the space of just six years, the brand has gone from a one-hit wonder to one of the world's premier supercar manufacturers, with a brilliant lineup encompassing everything from daily drivers to insane track-only monsters. But it wasn't always that way.
McLaren's road car ambitions nearly ended on a tragic day in 1970, when Bruce McLaren lost his life testing a Can-Am racer at Goodwood. His daily driver was a prototype McLaren road car – the M6GT – which used a tuned Chevrolet V8 engine.
It weighed less than a Mini, and had ten times the power. It also had manually operated pop-up headlights that were raised or lowered by hooking your finger inside the light pods. Can you imagine that getting signed off for production today?
Sadly, Bruce's plan to build 250 cars died with him. Just three were made, but the ethos of the M6GT remains today. The kiwi wanted to build the fastest, quickest accelerating and highest-spec road car ever, and unusually for the era, the safest too. The same elements all feature in today's range of McLarens. We sense Bruce would approve.
Here we assemble every series-production McLaren road car – plus the company's track-only special – for a world-first test. Enjoy. You can navigate through the various tests using the bar to the left of the screen.