James Hunt inspired McLaren P1 GTR to feature at Goodwood
Road-legal P1 GTR also set to make an appearance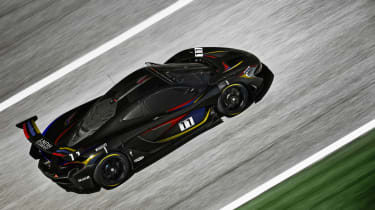 Not many racing drivers leave a legacy powerful enough to warrant a tribute as committed or inventive as this one, but then James Simon Wallis Hunt was no ordinary racing driver. In fact he captured the imagination in a way that few ever have.
And so to commemorate 40 years since the blonde bombshell clinched his only Formula 1 world championship, McLaren has commissioned a P1 GTR livery inspired by Hunt's much-loved helmet. The car will run up the hill at this year's Goodwood Festival of Speed, where is it virtually guaranteed to go down a treat with the crowd. Bruno Senna will be sawing away at the wheel, doing his best to contain 986bhp on the notoriously slippery tarmac.
The helmet's blue, yellow and red stripes were inspired by the boarding school Hunt attended in his teens – Wellington College – and were instantly recognisable whether he was at the wheel of a Brabham BT21 in Formula 3, on the way up the racing ladder, or going wheel-to-wheel with Ferrari's Niki Lauda in his Cosworth-engined McLaren M23 at the height of his powers. If you've still not seen Rush, now would be a good time to do so.
The design, despite the fact the pebble-like surface of a racing helmet and the McLaren's aero-inspired, almost caricature form have very little in common, translates fairly well, but any P1 GTR owners who take a fancy to it will be disappointed. The livery is a strict one-off.
The Hunt-inspired car will not be the only P1 GTR at this year's Festival of Speed, however, because an example converted to road-legal specification has been entered by Lanzante. As a road car, it will attempt to set the fastest time of the weekend with 1999 Indy 500 winner and McLaren test driver Kenny Bräck at the wheel. If you've never heard of Bräck then watch this. As for Lanzante, this is the firm that prepared the McLaren F1 GTR that won Le Mans in 1995, so the driver-car combination is beyond question.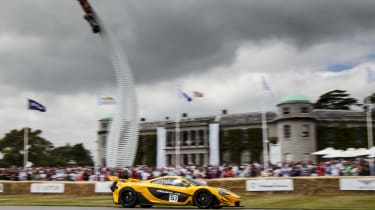 The current hill climb record of 49.3 seconds was set by Nissan's Jann Mardenborough in a GT-R Nismo at the 2014 Festival of Speed, although BAC Mono claims its blistering single-seater would have set a new record last year had its run of 47.9 seconds been officially timed.
Either way, unless weather conditions contrive to ruin a potentially red-hot run, it's difficult to imagine that the Lanzante McLaren will not set a new record later this month. It does, after all, weigh some 300kg less than the Nismo yet has more than three times the power of the BAC. And at £1.98million (before the conversion for road use), you'd certainly expect those kinds of figures.
This year's Goodwood Festival of Speed begins on 23 June and, if you're quick, you can still get general admission tickets for Friday and a chance to see two unique McLaren cars.