Mercedes A-class AMG on the way
The A25 AMG is a turbocharged, four-wheel drive Mercedes hot hatch with over 335bhp. Exclusive details here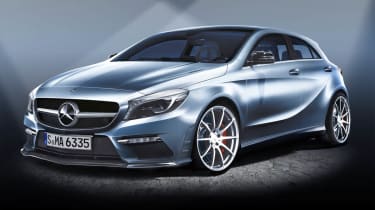 evo has learned that Mercedes is set to launch its first ever hot hatch in 2013. Called the A25 AMG, it will have four-wheel drive, a twin-clutch gearbox and a turbocharged four-cylinder engine with 'more than 335bhp' that is currently being developed by AMG's High Performance Engine division in the UK. If Mercedes manages to deliver on the project's targets, then the finished A25 will be closer in spec to a Group B rally car than a mainstream hot hatch.
AMG boss Ola Kallenius told evo that the new A-class has a 'clear sport gene' but admitted that it could not deal with AMG levels of performance while remaining front-driven. 'Pure front-wheel drive I would be extremely sceptical of from a performance point of view,' he told us in a recent interview. 'That would create understeer.' AMG has solved the powertrain dilemma by mating the four-cylinder engine – a development of the existing 'M271' petrol motor – to a four-wheel-drive transmission. We can also expect the car to get a twin-clutch gearbox.
Kallenius cites the four-wheel-drive ML63 AMG as an example of how an all-paw drivetrain can be made sporting. The A25 is thought to stick with a development of the standard A-class's MacPherson strut front suspension, with a unique multi-link back axle supporting the delivery of power to the rear.
Mercedes' HPE division is based in Brixworth, Northamptonshire, and is developing the A25's turbocharged 2-litre four-cylinder engine. This is thought to use technology from the turbocharged 1.6-litre Formula 1 engine that was developed for a cancelled set of F1 technical regulations – and it will be one of the most powerful series-production four-cylinder engines ever built. Kallenius is a former boss of HPE, and has given the Brixworth engineers the target of over 335bhp – more than the five-cylinder Audi RS3 and the forthcoming six-cylinder M135i (see page 14).
The combination of compact dimensions, turbocharging and four-wheel drive has often yielded thrilling results – think Mitsubishi Evo, Subaru Impreza and Lancia Delta Integrale – but few of these force-fed heroes have been noted for their comfort. Kallenius was keen to stress that while any AMG product 'needs to be a thoroughbred performance car through and through', it must also be refined. 'It has a star on the hood… which means it should carry everyday usability and a base level of comfort,' he told us. 'You can take it to Silverstone or the Hockenheimring and throw it around the track, but you still need to have a car you can drive every day and enjoy on your way to work.'
The A25 AMG will feature styling very similar to that of the 'Concept A' shown at last year's Geneva motor show, but a Mercedes insider has told us that the production car is likely to be launched in five-door guise, rather than with three doors like the concept. evo's exclusive artist's rendering shows the car with typically aggressive AMG styling – Kallenius is determined to ensure that AMG cars are, visually, 'even more unique inside the Mercedes-Benz family'. Pricing has yet to be announced, but expect to pay over £35,000.
And the A25 AMG is unlikely to be the only compact performance Mercedes based on this mechanical package. We're told that the A-class and B-class 'family' is set to swell to five models, with the B-class spawning a compact 'CLC' coupe that will also get the AMG treatment. 'We have a very aggressive growth and technology strategy,' said Kallenius.
Tantalisingly, we also hear that further ultra-hardcore Black Series versions of AMG's products will be unveiled over the next couple of years. Although it is unlikely the A25 AMG will be subject to the extreme Black treatment, a B-class-based CLC coupe with 400bhp+ is a real possibility.