Mercedes A45 AMG tuned to 424bhp by GAD Motors
German tuning company GAD Motors has boosted the Mercedes A45 AMG's power output to 424bhp. Details here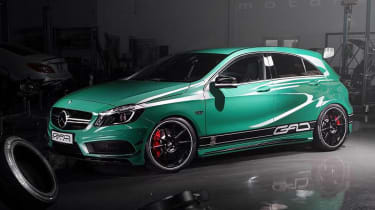 German tuner GAD Motors has created a power boost program for the Mercedes A45 AMG, pushing peak power up from 355bhp to 424bhp with 406lb ft of torque. This has seen the hot hatch's 0-62 time shrink by five tenths to 4.1secs, whilst the 0-124mph sprint has dropped by a substantial 3secs, taking just 14.3secs.
The power hike has come as a result of a remapped ECU, this being the first stage of tuning GAD offers. The aftermarket brand confirmed that more stages of tune are available to bring even more power, pushing the A45's performance figures beyond that of BMW's M4 and into the realms of fully fledged supercars.
In standard form the A45 isn't exactly a slouch anyway, its 2-litre turbocharged four-pot providing sports car performance in a practical hatch package. But after some fettling from GAD, the A45 AMG - now sporting black 19inch OZ Racing Superforgiata multi-spoke alloys and a lime body wrap - will no doubt take an even harder to charge to rivals like the Audi S3 and BMW M135i.