Mercedes AMG: turbo and AWD future
All future Mercedes AMG models will be turbocharged while four-wheel drive will feature more, too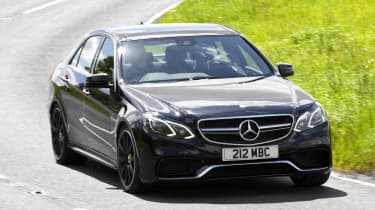 The Mercedes AMG range is set for a turbocharged, four-wheel-drive future. Speaking to Ola Kallenius, former AMG chairman who now heads overall Mercedes car sales, he told as that both technologies have benefitted the AMG range and have been successful with customers, ensuring their future.
'Obviously we love our 63 naturally aspirated engine, but the trend is towards turbo and downsizing. Enjoy the naturally aspirated as long as it's there but the future will be turbocharging', Kallenius told us. This will include the next C63 AMG, the current model being the backbone of AMG sales.
'We haven't quite revealed what we want to do on the next C-class yet, but the turbo trend is here to stay. But we're not going to do anything else to the current C-class as it's heading towards the end of its life cycle.'
Kallenius also confirmed all-wheel drive as a key part of AMG's upcoming strategy, after it has started to filter down from SUV models to AMG saloons such as the E63 and new S63, albeit only in left-hand-drive markets for now. That should hopefully change for right-hand-drive markets such as the UK, with sales on the E63 tipped heavily towards AWD-equipped cars where there's a choice between all- and rear-wheel drive.
'In our current E-class model, we have both. At the moment I would say that is the case. Should the take rate for four-wheel drive go very high, maybe it would make sense to, at some point, for some models, go four-wheel-drive only. But we'll have to watch that. We haven't made any ultimate decisions on that at this point.
'With our four-wheel drive, we have made a specific AMG performance variant of the 4Matic system, with a rear-drive bias, with two thirds of the torque going to the rear axle. Even if you buy one of our 4x4s you still have the AMG rear-biased car because we didn't want to have cars with the understeer you tend to see with those 4x4s, we wanted to make them more like 4x2s. We need to be mindful of our DNA - the soul of AMG.'