Mercedes CLS 350 CGI: Mercedes CLS 350 CGI
Tiny niggles with the Mercedes CLS 350 CGI are playing on David Vivian's mind, but he's still mightily impressed by the car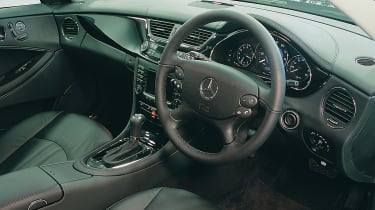 As anyone who's ever lived with a great car will tell you, it's the small things that play on your mind. From day one our CLS has had the tiniest rattle from inside the driver's door. It's not even a rattle, more the sound of a gossamer-thin membrane of plastic gently vibrating in sympathy with the road surface. In a noisier car it would have gone unnoticed but, wafting around town, the Merc is whisper quiet, and the just-perceptible buzzing from the door was slowly driving me mad.
In fact, I was almost glad when a couple of test cars afforded the opportunity of a two-week break from the minuscule annoyance. But when I leapt back in the CLS to drive to Heathrow it had disappeared completely. The low-level irritation I usually felt in anticipation of its twittering company slowly ebbed away, and the kind of satisfaction a CLS should provide flooded back to maximum mood-enhancing effect.
Until the first time I applied the brakes at speed, that is. Slowing for my exit on the M25 they were rumbling. Not in a warped disc/shot pads fashion, but rumbling nonetheless. As I boarded the plane an emergency trip to the local dealer had risen to the top of my 'to do' list for my return. But by the end of my journey back to Whitstable a couple of days later, the rumble, too, had vanished without trace.
Which means, if nothing else, our CLS has impeccable timing and knows just when to gets its act together. We'll file the above under 'transient unexplained phenomena' for the time being and hope it stays that way.
Meanwhile, the CLS is everything I hoped it would be, delivering huge dollops of feel-good factor whether you're just looking at its still extraordinary shape, sitting in its charismatic cabin or threading it down a country road at a lick that completely belies its size and bulk. Love that direct-injection petrol V6, too, which gets better with each passing mile.
Running Costs
| | |
| --- | --- |
| Date acquired | December 2006 |
| Total mileage | 2660 |
| Costs this month | £0 |
| Mileage this month | 571 |
| MPG this month | 28.1mpg |