Mercedes CLS: Mercedes CLS 350 CGI
This month's big question for David Vivian and his Mercedes CLS is which suspension setting to use? Decisions, decisions...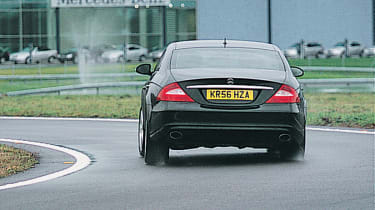 Since the first time I drove one, I've admired the air-suspension- equipped CLS's three electronic damper settings: soft, medium and hard. So much easier than the M5's massively configurable 'if you're not a computer systems analyst, better step away from the iDrive' suite of suspension/traction permutations.
But now I'm getting restless. Soft seems, well, too soft. Medium is fine but an obvious compromise. So now I tend to leave it on hard and forget about it. Simpler still, of course. And the great thing is, the CLS still has a beautifully damped ride. And corners like a bastard. Result.
Running Costs
| | |
| --- | --- |
| Date acquired | December 2006 |
| Total mileage | 3547 |
| Costs this month | £0 |
| Mileage this month | 887 |
| MPG this month | 28.3mpg |