Mercedes CLS 350 CGI: Mercedes CLS 350 CGI
You wouldn't get married in a VW Golf would you? Neil Carey borrows the Mercedes CLS for a mate's big day...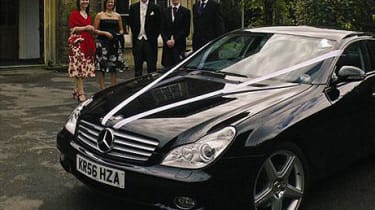 A few months ago I got the call from a friend in need. His big day was fast approaching and he was looking for a suitable car for the occasion. Glancing at our fleet, one car jumped out at me as being ideal for the job. The CLS is quick, luxurious, relaxing and has an effortlessly elegant carved shape that looks absolutely right anywhere you take it.
Having swapped my R32 for the CLS, the first task was to get the Merc to Bristol. This gave me a chance to sample the vibration David mentioned last month. It's an oddly intermittent problem, but at around 80mph you can feel a slight wobble. It's very subtle, but insistent enough to make you feel sick after a few hours of motorway cruising.
Thankfully, on the big day the wedding party were too distracted by the Merc's massaging seats to notice anything else wobbling, and the gadget-laden CLS became the perfect distraction for a very nervous groom and best man. If only there was more to keep the driver entertained, this car would be perfect. CLS 63 AMG, anyone?
Running Costs
| | |
| --- | --- |
| Date acquired | December 2006 |
| Total mileage | 6117 |
| Costs this month | £7 (white ribbon) |
| Mileage this month | 1221 |
| MPG this month | 27.9mpg |