Mercedes CLS 350 CGI
Mysterious buckling of the Merc's alloy wheels has caused head scratching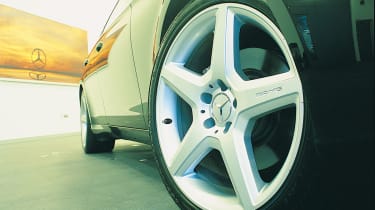 Right then. The mystery of our Merc's perfectly round-looking wheels that turned out to be, well, bent. There seems to be three possibilities, Watson, none of them elementary.
One, I've smacked a few kerbs and haven't noticed. I've smacked a number of things over the years – a TVR Tuscan into a dry stone wall being perhaps the most memorable – but the 350's 19in AMG alloys aren't four of them. Light scuffs for slightly-too-snug parking is about as violent as it gets.
Two, during its recent stay at Evo Towers, the boys thought it might be fun to use the CLS for a spot of ram raiding. They swear to me that this isn't the case. And you know what? I believe them.
And three, the Merc has had a run-in with a few vicious potholes. I can recall three occasions, I think Harry had at least one and… well, potholes are no respecters of fancy wheels. This is my favourite theory.
After much head-scratching and road testing, my local Merc dealer in Canterbury concluded that not one or two but all of the wheels were bent. Now it has four gleaming new ones so we can see if anything similar happens again.
Mercedes certainly seems confident that buckling AMG alloys aren't the norm. A technical spokesperson said: 'It just doesn't happen. There are no endemic porosity/buckling problems.' Pretty clear-cut, then. Smooth sailing from here on.
Running Costs
| | |
| --- | --- |
| Date acquired | December 2006 |
| Total mileage | 8,740 |
| Costs this month | £0 |
| Mileage this month | 1,250 |
| MPG this month | 28.4mpg |