Mercedes CLS 350 CGI
Our Merc's electronics have developed a sense of humour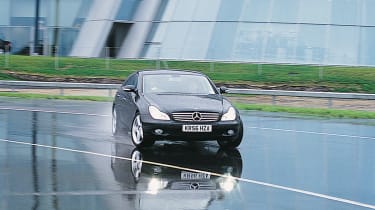 Odd but true. Recently, whenever I select reverse to manoeuvre into a parking slot, the nearside door mirror has taken to angling itself skyward instead of helpfully pointing towards the kerb as it was designed to do. At first it was quite funny (as in I'm driving the first Mercedes-Benz in history with a sense of humour). But now it's just annoying (as in the CLS is hard enough to park anyway and the comedy's wearing a bit thin). I'll be interested to hear the explanation at the first service.
This is rather overdue now but, as usually seems to be the case with cars that overrun their official slot by a few miles, I've never known the CLS run more sweetly or more frugally.
I'm spending a fortune at the car wash, though. Don't know what's in the rain round hear but it looks an awful lot like cement dust. And black shows it off to perfection.
Running Costs
| | |
| --- | --- |
| Date acquired | December 2006 |
| Total mileage | 12,745 |
| Costs this month | £0 |
| Mileage this month | 1169 |
| MPG this month | 28.8 |