The Mercedes G-Wagen is coming back to the UK. Now dubbed the G-Class, it's a return to right-hand drive sales for Merc's monster off-roader after a decade away. We'd certainly not blame you for thinking it an odd time to relaunch such a car here – a car sales market working its way out of a crisis seems unlikely to welcome a large, thirsty SUV with open arms, and that's before you've seen the price. There'll be two passenger car options – the 218bhp G350 CDI diesel, costing £79,975, and the supercharged 493bhp G55 AMG petrol, which will set you back a mildly startling £114,975. It'll also take you to 62mph in 5.5sec too, mind. A commercial option, the G300 CDI, will kick off G-Class sales at just shy of £58K. The G has always been a bit of a cult car, though, and those wanting one are unlikely to be put off by paying Audi R8 Spyder money for one. Mirroring this is the fact that all G-Classes are available exclusively from Merc's Specialist Products Division at Brooklands' Mercedes-Benz World. The G-Wagen is now over 30 years old, and over 200,000 have been sold since its 1979 debut.
Join evo on our Twitter, Facebook and Youtube pages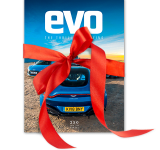 Subscribe to evo magazine
If you're passionate about the world's greatest performance cars, experience the thrill of driving with evo magazine. Try your first 5 issues for £5.