Mercedes Concept Coupe SUV shown
Mercedes has shown its next-generation BMW X6-rivalling Coupe SUV model, ahead of the Beijing motor show. Details here.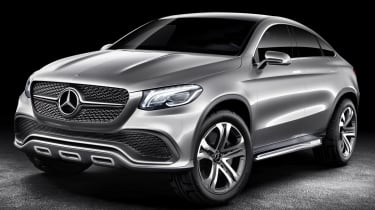 Mercedes has released an image of the upcoming Coupe SUV Concept, ahead of the car's full launch at the Beijing motor show next week. It's though that the new concept will be based on the next ML model.
Although the model shares some of its styling with the smaller CLA and GLA models, the concept is much larger, and will most likely go up against the BMW X6 in the full-size Coupe SUV segment.
Few details have been revealed, but we do know the concept sits on a set of 22-inch alloy wheels, with special Continental tyres. Mercedes describes the concept as a 'sportily styled coupé study', which provides a 'realistic glimpse of a series-production vehicle expected next year, which will boast very dynamic handling'.
The new model is expected to open up a ne market to Mercedes, which has so far been unable to offer a rival to BMW's highly successful X6 in the USA.
More details are expected following the official unveiling of the car at the Beijing motor show.