Mercedes S63 AMG
Big Mercedes limousine gets the AMG treatment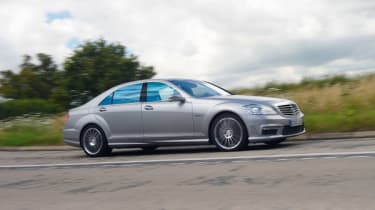 This car shouldn't work. And for the most part it doesn't. Look at the size of it – it's way too big to be genuinely exciting. Even if you opted for the regular-wheelbase version instead of this long one, it's still not going to be as wieldy as a C63, is it? And if you're going to be chauffeured around, surely you'll want to be in a pillowy-soft S-class, not an AMG for heaven's sake.
But just because it's a curious combination that has no natural buyers doesn't mean it's not impressive. The AMG mods don't dominate here, they complement. The engine burbles beautifully and is hushed unless properly uncorked. And it's quite a feeling when the unseen hand of acceleration presses you back into a seat this big and thick. Start cornering and you'll hear the chair murmur and sigh as it compresses and relaxes various air cushions in order to hold you in place. Make sure you've engaged Sport mode first, though – without it the traction control is way too intrusive. The ride's not harmed unduly, either.
Body control is remarkable, allowing the S-class to change direction with something approaching agility, and although few dynamic signals are allowed to breech the cabin's defences, there is enjoyment to be had, chiefly from the 6.2-litre engine's husky muscularity and the short work it makes of the 2070kg kerb weight.
Specifications
 
Engine
V8, 6208cc
Max power
518bhp @ 6800rpm
Max torque
464lb ft @ 5200rpm
Top speed
155mph (limited)
0-62mph
4.6sec (claimed)
Price
£100,030
On sale
Now