The third Mini JCW GP is around the corner, with Mini confirming the flagship John Cooper Works model will enter a 3000-unit limited production run in 2020. Traditionally the hottest of all of Mini's JCW models, this new generation has been spotted putting in laps around the Nürburgring with its wild concept-inspired bodywork intact.
After a much closer look at a pre-production prototype displayed at this year's Nürburgring 24 Hours race, we can now reveal that the next JCW GP will feature an automatic transmission, and judging by the cunningly placed 7:54.69 imprint on the dash, knowledge that the next GP might not take the front-wheel-drive lap record, which Renault only just took back with its Mégane RS Trophy R with a 7:40.1 time.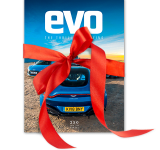 Subscribe to evo magazine
If you're passionate about the world's greatest performance cars, experience the thrill of driving with evo magazine. Try your first 5 issues for £5.
> Click here for our review of the Mini JCW Challenge
To achieve this lap time though, the Mini's track widths have been widened front and rear, possibly borrowed from the wider Clubman, which would aid a rise in cornering speed and front-end bite. Covering the wider tracks are similar, sheet-like wheelarch extensions to the ones seen on the GP Concept from the 2017 Frankfurt motor show. This design feature will certainly make the new GP look distinctive on the road, and is accentuated with a large bi-plane rear wing, with embossed GP logos on the side – even the bright-red inners from the Concept have remained.
The aggressive bodywork will likely hide potent innards too, with a power figure of over 300bhp likely, courtesy of BMW's B48 2-litre four-cylinder engine. In higher outputs, as found in the incoming X2 M35i, the B48 utilises a twin-scroll turbocharger that helps reduce lag and broaden the power and torque curves further across the engine's rev range.
The chassis will also likely go through a comprehensive development programme, with completely revised suspension components, those wider tracks, an extensive diet and fruitier exhaust. It's worth remembering that this Mini shares its basic underpinnings with the BMW X2, so the first all-wheel-drive Mini JCW model is not out of the realms of possibility either.
This new GP isn't the first track-focused F56-generation Mini John Cooper Works, with evo having had a hand in developing the JCW Challenge  special edition in 2016, which combined adjustable coilover suspension, lightweight wheels and Michelin Cup 2 tyres (among other upgrades). Although incredibly focused, the Challenge produced 'just' 228bhp from its 2-litre turbocharged four-cylinder engine. We suspect that this GP model will follow in its predecessors' footsteps in offering a heavy track focus, but with an extra 75bhp should be considerably quicker in a straight line.
The stripped-out nature of the previous GPs suggest this model will also do without many of the creature comforts found in current Mini John Cooper Works models, not to mention the rear seats, which have typically been absent in GP models in lieu of a rigidity-improving cross-brace. The classic grey, silver and red colour palette will also be applied, so too the familiar four-spoke wheels.
With two outstanding predecessors, expectations are high for this latest generation of Mini JCW GP, something made only more pertinent by our lukewarm reception for the current Mini Cooper S. We look forward to finding out if this third generation will indeed live up to them.