It's a Saturday morning and Plant Oxford is deserted. I'm not sure quite what I expected, but it certainly wasn't the metaphorical big padlock on the gates – there isn't even anyone in the security booth. I pull up by the blandly titled T Building, next to the main entrance. Not much remains of the original plant, the spiritual home of the Mini, but this giant, windowless brick shed has the jagged triangular roof that so readily identifies it as a survivor from the golden age of British industry.
Despite the very public location, I feel like I'm doing something illicit, like I've come here for a subversive rendezvous and I'm going to be spotted any second now. It doesn't help that I'm nestled behind the wheel of a custard yellow Mini John Cooper Works a month before the car is officially released to the press and public. Then an electric blue JCW rolls round the corner of the T Building and stops nose to nose with me…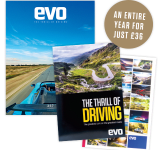 Subscribe to evo magazine
evo is 21 and to celebrate, we're returning to 1998 prices! Subscribe now to SAVE 39% on the shop price and get evo for its original cover price of £3.00 an issue, plus get a FREE gift worth £25!
Enough of the bad spy story, because there's an entirely rational explanation for my presence here. The gaudy yellow hot hatch had arrived at Evo Towers two days beforehand – the first one released to any publication worldwide. We weren't blown away – far from it. In fact puzzled is the best way to describe our collective impressions. Puzzled as to why it didn't flow down the road as well as the diesel Cooper we'd had in recently. Puzzled about the slackness at the top of the suspension travel. Puzzled as to why the nose was so unsettled. The only logical conclusion? Plant Oxford must have built a duffer.
Luckily BMW had a solution – a replacement car. And here it is, looking, well, much like any other Cooper S to be honest. There are new wheels, but they're still 17s, with the same width and profile run-flat tyres. Plastic trim that was previously black has been painted body-colour and JCW badges adorn nose, tail and brake calipers (even though Brembo is responsible for the beefier stoppers).
Viewed in the flesh the overall impression is of a meatier Mini, one with a bit more punch, pow and zap. But one that justifies a £20,995 price tag, the best part of five grand more than the 172bhp Cooper S? Time to find out.
It's safe to say the JCW has some impressing to do come Monday. It's shortly after 5am and the Mini is as crotchety and grouchy as I am, the freer flowing exhaust giving me the full Rice Krispies experience. Half way to Wales we fuel up (40 litres of Shell V-Power for the Mini, a can of Red Bull for me) and take stock.
The JCW has cruised comfortably so far, there's no excessive wind noise, the driving position is great, the ride perfectly tolerable over long distances. Pity the cabin is so similar, though. A new gearlever and a badge above the glovebox is about the sum total of the changes. Some new, more supportive seats certainly wouldn't have gone amiss.
So was the money ploughed into the suspension? Nope. The changes here amount to precisely nothing. Sure, those seeking a more hardcore experience can have sports suspension or the even firmer £140 JCW set-up, but that's not really the point – the JCW is the pinnacle of Mini life, it should offer something different, something exceptional in every area.
It is rapid, though. Genuinely quick, in fact. And it sounds great: raspy engine, farty exhaust. Exactly what you'd hope for from an engine that now breathes better thanks to a larger air-mass sensor, charge line and intake, and expels its gases more easily through a new exhaust manifold and a bigger cat and exhaust. Then there's the tougher intake valves and seat rings, lower compression ratio, thicker cylinder head and larger twin-scroll turbocharger. Now you can start to see where the money's been spent.
Two hundred and eight bhp and 206lb ft certainly make themselves felt in a 1205kg Mini. I get to Bala ahead of photographer Kenny P, having proved the JCW is an extraordinarily effective overtaking device on the way. It pulls harder than the Cooper S low down, but the real gains are felt above 5000rpm, especially if you select Sport mode, which provides a different engine map, making the engine's overboost facility more readily available, and also sharpens the throttle and steering. The 1.6-litre four is responsive, fast-acting and fizzy. Open a window and the gentle turbo whistle and soft tsss when you lift off are clearly audible, the insistent exhaust providing accompaniment. It's the sort of engine that's simply bloody good fun to use.
But that wasn't what had us concerned on the roads around the office, it was the chassis, specifically its behaviour under throttle load. This blue car does feel different. It squats less under hard acceleration, the nose doesn't fall into corners so readily, the steering is more consistent across the rack. Mini subsequently told us they couldn't find anything wrong with our first car, but this one definitely feels a healthier specimen.
Few roads can unpick a car's chassis as ably as those around our Wollaston HQ, certainly not the first corner Kenny has chosen: a tight, steep, smooth hairpin. The JCW is dynamite around it, and for one main reason: EDLC, or Electronic Differential Lock Control. It works the same way as a slippy diff, but is managed by electrics rather than mechanics, slowing a wheel if slip is detected and able to apportion up to 100 per cent of torque to either side.
It's hugely effective. In fact you can treat the JCW like an Impreza or Evo, hurling it into corners, mashing the throttle and letting the technology take care of the rest. It's great fun, giving the JCW an eager, tenacious, rough-and-tumble, scruff-of-the-neck charm. It's an absolute riot at roundabouts.
But it has a dark side. Remember the original Focus RS? Now there was a two-faced car – heaven on the right road, hell on the wrong one. Likewise this Mini. Kenny is following in our Audi S5 long-termer and we're having a blast. The JCW is devastating on some sections of road: nimble, ultra-grippy, changing direction snappily, able to get the power down early, resisting understeer utterly, leaving the S5 gasping – seriously.
And then you hit a bump or a camber or a rut or even a change of surface, and playful becomes handful. Suddenly the wheel tugs in your hands, the nose goes sniffy and the Mini ties itself in knots as it attempts to send torque where it's needed. It darts and it weaves, and as our art director Paul Lang put it, 'You end up adopting an elbows-out, gorilla-style posture, wrestling the car, not working with it.'
With John Cooper Works the company having been absorbed into the BMW empire, the JCW was developed in Germany. If it even visited UK roads at all during its gestation, I'd be amazed. Sure, it's still huge fun to drive, and key Mini elements like the smooth gearchange and the sound build quality are all intact, but here they're offset by a hectic and occasionally unpredictable personality. The engine is a real highlight, and the car certainly needed a diff to manage the extra power, but the end result feels part-finished, like time was called before the team got its last orders in. The JCW should be Mini's mission statement, its this-is-what-we're-capable-of car. It needs to be that to justify the £21K tag and to run with the likes of the Mégane R26.R, let alone Fiat's terrier-like 500 Abarth. We reckon it's going to have its work cut out.
Specifications
| | |
| --- | --- |
| Engine | In-line 4-cyl, turbocharged |
| Location | Front, transverse |
| Displacement | 1598cc |
| Bore x stroke | 77 x 85.8mm |
| Cylinder block | Aluminium alloy |
| Cylinder head | Aluminium alloy, dohc, four valves per cylinder, variable valve timing |
| Fuel and ignition | Electronic engine management, direct fuel injection |
| Max power | 208bhp @ 6000rpm |
| Max torque | 206lb ft @ 1950rpm |
| Transmission | Six-speed manual, front-wheel drive, EDLC (Electronic Differential Lock Control), DTC, DSC |
| Front suspension | MacPherson struts, coil springs, gas dampers, anti-roll bar |
| Rear suspension | Multi-link, coil springs, gas dampers, anti-roll bar |
| Brakes | 316mm ventilated front discs, 280mm solid rear discs, ABS, EBD, CBC, Brake Assist |
| Wheels | 7 x 17in front and rear, aluminium alloy |
| Tyres | 205/45 R17 front and rear, ContiSportContact3 SSR run-flats |
| Weight (kerb) | 1205kg |
| Power-to-weight | 175bhp/ton |
| 0-62mph | 6.5sec (claimed) |
| Top speed | 148mph (claimed) |
| Basic price | £20,995 |
| On sale | Now |
| evo rating | 4/5 |
In This Review