Mitsubishi Evo X FQ-440 MR announced
Mitsubishi has announced a run of 40 special edition Evo X FQ-440 models, priced at £50,000. Details here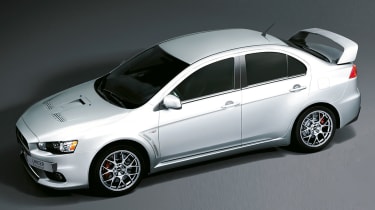 To celebrate the 40th anniversary of Mitsubishi's operations in the UK, the company has announced a run of 40 Lancer Evo X FQ-440 MR models. The 440bhp model will be the most powerful production Evo ever, and will cost £50,000.
Specifically tuned in the UK, like all the previous FQ models, the 440 has been given the full works. To release extra power from the 2.0-litre four-cylinder engine, Mitsubishi has fitted an aftermarket HKS turbocharger, Janspeed hi-flow exhaust with tubular manifold, high-flow fuel injectors, uprated intake and intercooler – and of course a custom ECU re-map.
The suspension has been lowered by 35mm at the front, and 30mm at the rear with the addition of uprated Eibach springs. A set of forged BBS alloy wheels help to reduce the unsprung weight. There's also an on-board data-logger, which makes details of driving style, GPS, diagnostics and a whole host of other things available to the owner, as well as the manufacturer. Removal of the device will void the warranty.
Only available in Frost White, the Evo X FQ-440 will cost £50,000 when it goes on sale later in the year.