Infiniti EMERG-E at Goodwood
The electric range-extender is set to run up the hill at Goodwood, with Red Bull's Mark Webber at the wheel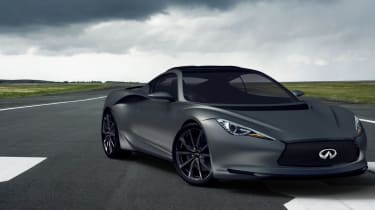 Japanese luxury car manufacturer Infinity, which has been in partnership with the Red Bull F1 team since the end of last year, will be running its latest supercar concept, the electric-hybrid EMERG-E coupe at the Goodwood Festival of Speed on 29 June - 3 July.
The EMERG-E concept was unveiled at the Geneva motor show, and although no specifications have been released for the new running prototype, it's likely to consist of the same 402bhp three-cylinder petrol engine and duel electric motor combination.
Also making an appearence at the Festival will be a new special edition Infiniti FX, known as the 'Vettel edition'. Of course, the two-time Formula 1 World Champion will be driving the 414bhp SUV it up the hillon Sunday.