LaFerrari trumping Fahlke Larea GT1 S12: videos and details
We thought the LaFerrari FXX K and One:1 had power, but Fahlke's Larea GT1 S12 tops both... Specs and videos here
German super sports-car maker, Fahlke, has shown off its street-legal Larea GT1 S12 at the Essen motor show. Churning out a whopping 1243bhp and 1180lb ft from a supercharged 7.2-litre V8, the S12 produces over 200bhp more than the track-only LaFerrari FXX K. More shocking is that the resulting power-to-weight ratio of 0.77kg/hp tops the world's first megacar, the Koenigsegg One:1, by almost 25 per cent. Gulp.
The S12 is the latest and most powerful evolution of the Larea GT1, with the range starting at a more relaxed 542bhp for the S7 model. From there, customers can choose a 709bhp EVO (in the video above) or 989bhp S10 version (in the video below) that are both street legal. If this still isn't enough, Fahlke will build you a track-only 'racing' weapon that can be built with engines capable of developing a huge 1379bhp. Truly ridiculous numbers.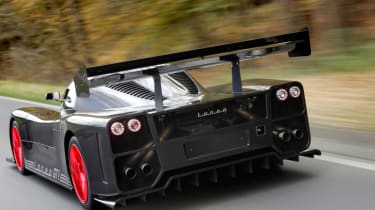 The Larea GT1 is built around a tubular frame produced from chromium molybdenum steels, while the passenger compartment is constructed from a carbon monocoque. The S12's body is handmade out of glass reinforced plastic/carbon and its design was aided by the use of a wind tunnel to tune aerodynamic performance. Additional use of carbon fibre and aluminium alloys allow the GT1 S12 to weigh just 980kg.
The claimed performance figures for the S12 are unsurprisingly rather prodigious, but just be sure to take them with a pinch of salt. Fahlke claims the 0-62mph dash is completed in only 2sec, with 124mph registering on the clock in an insane 5sec; a McLaren P1 would be trailing you by a significant gap of 1.8sec. Yes, this has all the hallmarks of another all talk no walk small-scale supercar maker, but as evident in the onboard around the 'Ring on a lesser GT1 above, Fahlke has actually built working cars.
We'll do our best to get behind the wheel and put these brash claims for performance to the test. Or, if you'd prefer to have a go at terrifying yourself, prices for the Fahlke Larea GT1 S12 are available on request.
Here's a video of the S10 to prove that the claims for cubic capacity aren't false. It's a big'ol V8 alright...