Dunlop's race car of the future: video
Sergio Rinland introduces us to his brakeless and wingless race car of the future with shape-shifting Dunlop tyres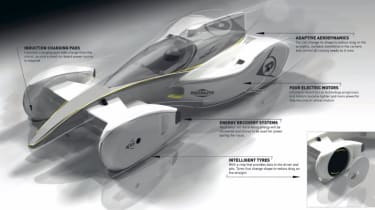 Dunlop reckons it's found the race car of the tomorrow with Sergio Rinland's futuristic single-seater design. Created to predict what the circuit racer of the future looks like, Sergio's car is designed to offer maximum performance for the minimum amount of pollution.
Powered by an electric motor, the car avoids carrying heavy batteries around by drawing its energy from the track itself. Weight has also been saved with composite bodywork produced in the slipperiest shape possible.
Interestingly, in a time when the fastest racing cars all rely heavily on downforce, Dunlop's future racer does away with wings, instead prioritising aero-efficiency over downforce. The result is a slicker, almost completely optimised shape to create the smallest amount of drag possible.
The car rolls on Dunlop's 'intelligent tyres,' which can send live data to the driver so wear and performance can be managed accordingly. The tyres can also change their form to slim down on the straight, helping to reduce both air and rolling resistance.
The next feature might surprise you: the car has no brakes. Instead, all deceleration is made possible with the use of energy regeneration. This again saves weight, and also ensures that 100 per cent of energy is recovered.
Other interesting tech features include the projection of 360 degree peripheral vision to the driver, much like JLR's latest developments, that help do away with drag creating mirrors for tiny cameras that offer even better levels of visibility. This can then help to keep the driver cocooned deeper into a safety cell, improving safety and also helping to further optimise aerodynamics. 
Sergio's car may only be a 'vision of the future,' but it points towards an exciting, tech-heavy world for tomorrow's motorsport. And though it won't be to every racing fan's taste – it's missing a combustion engine for starters – the importance of ultra-efficient racing cars in a world that holds finite resources is undeniably big.
Do you think Dunlop's race car predicts the future for motorsport? What tech would your future racer feature? Comment below with your answers.