Jaguar Land Rover develops invisible pillars and ghost car technology
JLR wants to improve safety and make urban driving easier with new cutting-edge digital technology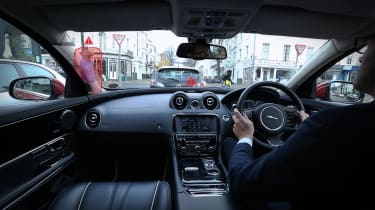 Jaguar Land Rover has its eyes set firmly on the future, as demonstrated by its latest innovation. Acknowledging that the larger pillars of new cars often create significant blind spots, JLR has developed a '360 Virtual Urban Windscreen' to vastly improve visibility and reduce the chances of unsighted accidents.
It works by capturing live video with cameras positioned on the body, which is then played on screens mounted on the inside of the pillars. This then creates the illusion that the pillars are 'invisible,' removing the blind spot completely and offering full 360 degree vision.
The A-pillars (either side of the windscreen) play their image whenever an obstruction appears, with the doors' B-pillars projecting their image when the driver looks over his/her shoulder to look back. This clever technology connects to the Cloud, where information is collected from local infrastructure and businesses. Things like fuel prices of local fuel stations can then be projected onto the screen, appearing to work in a similar way to Google's Glass technology.
Dr Wolfgang Epple, Director of Research and Technology, explains: 'our ultimate aim is to reduce road accidents and enhance the urban driving experience. The Jaguar Land Rover research team is developing this technology to improve visibility and to give the driver with the right information at the right time. If we can keep the driver's eyes on the road ahead and present information in a non-distracting way, we can help drivers make better decisions in the most demanding and congested driving environments.'
JLR has also been working to produce technology that helps with satellite navigation. Seemingly borrowing an idea from Gran Turismo, JLR's tech projects a three-dimensional ghost car onto the windscreen ahead of you. Rather than projecting the previous fastest laptime ahead like on the video game (that tech might exist soon with Virtual Windscreen though), JLR's ghost acts as a car to lead you to your destination.
Dr Epple says: 'driving on city streets can be a stressful experience, but imagine being able to drive across town without having to look at road signs. We want to present all of this information on a head-up display in the driver's eye-line, so the driver doesn't have to seek it out for themselves and take their eyes off the road ahead.'
It's all very clever and still in stages of development, but recent announcements that JLR developed artificial intelligence and cutting-edge engine tech will be fitted to Jags and Land Rovers 'within the next few years,' suggest that this latest technology could follow shortly after.
While 360 degrees of vision can surely be no bad thing for driving, we do worry that a wave of Gran Turismo fans will end up trying to catch up with the leading ghost car. Given that it's fixed to stay ahead, it could result in some serious pressing-on...