JLR launches Ingenium engine family
Jaguar Land Rover has launched a new range of engines, called Ingenium, which boasts a raft of cutting-edge technology. Details here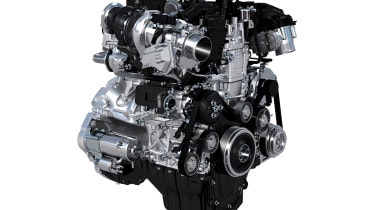 Jaguar Land Rover has released technical details of cutting edge technology that we can expect to see in its forthcoming cars. With the introduction of a new line of engines promising more performance and improved efficiency, the British carmaker has also confirmed it is testing systems of artificial intelligence to further improve the driving experience of its vehicles.
The new line of engines, Ingenium, has been designed in house at the company's Whitley and Gaydon facilities specifically to allow a wide range of flexibility for future technologies. Based on a 500cc per cylinder aluminium block, both petrol and diesel powerplants can be based on Ingenium, allowing for more efficient production and wider use across the Jaguar Land Rover range. Bore, stroke and cylinder spacing are all shared too, enabling a faster transition between design and production and therefore more effective response to changes in demand.
Improvements will be felt from behind the wheel as well, with a reduction in weight of up to 80kg per unit compared with current engines, and significant advancements in low down torque being achieved thanks to the use of what JLR calls 'state-of-the-art turbochargers.' Not only can components be shared between diesel and petrol units, but also with hybrid electric systems, suggesting we will see a significant number of hybrid cars from the automaker in the future too.
The first engine from the Ingenium line to go into production will be a 2-litre diesel named AJ200D. This unit operates with a significant 17 per cent less friction than the engine it replaces, making it one of the most efficient in the class. Much of the improvements have come from advancements in computer controlling for things like oil pressure, engine temperature, and piston cooling, as well as mechanical changes including offset crankshafts and roller bearings on cam and balancer shafts.
The new engines come as part of a larger scale of improvements for JLR vehicles, including a general weight saving plan and perhaps most interestingly, developments for artificial intelligence. JLR has been developing its 'Jaguar Virtual Windscreen' concept that is said to 'aid road and track driving,' as well as 'Smart Assist' technology that learns driver characteristics to then provide maximum assistance on the road.
The windscreen tech seems to bring ideas developed in video games into real life, projecting racing lines, 'ghost cars' and even virtual cones onto the screen to help develop driver skill when off public roads. But the tech can also be used on the road, with gesture control - much like we see on current smartphones - enabling drivers to change settings or press buttons without having to adjust their line of vision.
A 3D instrument cluster has been developed to take the place of conventional buttons, being projected into the driver's eyeline so they can select the button they want whilst maintaining focus on the road ahead. Learning the driver's usual routines and routes, the car can then help out by predicting decisions to be made and even adjust things like mirrors, temperature and seat functions.
Whilst this technology is still very much in development, JLR expects it to be fitted to its cars 'within the next few years.' This all comes at a very interesting time for JLR, with recent announcements confirming 1400 jobs will be created at its new £500 million Engine Manufacturing Plant in Wolverhampton.