Tesla Model S P85D v Mercedes-Benz E63 AMG S drag race – which one wins?
Watch Tesla's twin-motor electric sportscar take on Merc's brutal twin-turbo V8 super-saloon
Pitting any car up against Mercedes' brutal E63 AMG S super-saloon is brave, but Tesla Model S P85Ds have been humiliating sportscars across the globe for some time now. Don't be so quick to guess the winner here though, because although the Tesla benefits from having two electric motors - one for the front and one for the rear axle - the Mercedes is equipped with a comparably mammoth twin-turbo V8.
>Watch - Tesla Model S P85D v Dodge Challenger Hellcat drag video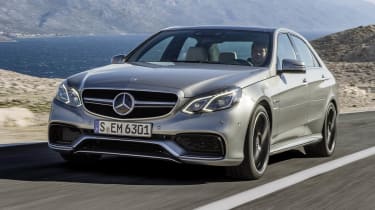 Both send drive to all four wheels and both weigh a substantial amount thanks to lashings of leather and heavy infotainment systems. The Tesla carries the burden of batteries, but saves weight by not carrying a propshaft. Performance is therefore tantalisingly close on paper: the Tesla can sprint from 0-60mph in just 3.2sec, the Merc takes just four-tenths longer.
>Read - Tesla Model S 'D': Four-wheel drive, supercar performance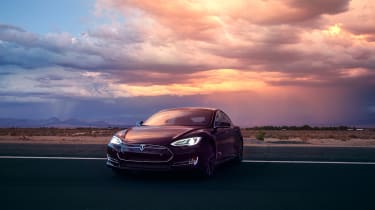 In our tests we've been incredibly impressed by both machines, with runs in a less potent Model S confirming its instantaneous torque and clever gearing enable rapid acceleration off the line or once rolling. But our goes in Mercedes' super-saloon also confirm that a big, oil burning V8 can provide equally savage levels of landscape blurring at just the flex of a big toe.
It'll certainly be close, but which car comes out on top on the dragstrip? Watch the video above to find out. Do you think the result would be the same on a race track?