Watch - Sebastian Vettel drives LaFerrari FXX K
Four-time champ Vettel answers questions behind track-hypercar wheel
Taking time out of his pre-season testing duties, four-time World Champion Sebastian Vettel answers Ferrari fans' questions while driving the track-only LaFerrari FXX K. 
>Watch – LaFerrari FXX K video on track 
While piloting the 1034bhp track-hypercar, the 27-year old confirms he has his sights set on race wins in 2015. Though the Maranello team has struggled in years of late, Vettel explained that signing for Ferrari was 'very emotional.'
>Watch – Sebastian Vettel drives Ferrari's F1 car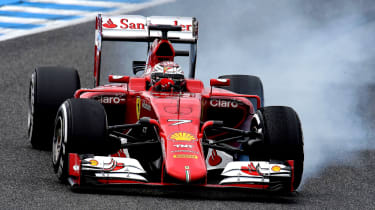 Vettel was fastest on day two of the Jerez 2015 pre-season test, lapping 0.833secs faster than the second placed Sauber of Felipe Nasr. Ferrari teammate Kimi Raikkonen was quickest of the week in the SF15-T, setting a 1min 20.841sec laptime.
Champions Mercedes had a conservative week, ranking third in the overall laptime standings, but most still expect the Brackley based team to comfortably rank top early on.