Since the first British Grand Prix of 1926, the iconic race has thrown up some truly extraordinary moments across a variety of UK circuits from Aintree to Brands Hatch and Silverstone.
Below are what we believe to be the most memorable moments from the 71 previous outings.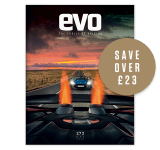 Subscribe to evo magazine
Subscribe today to have every issue of evo delivered straight to you. You'll SAVE 39% on the shop price, and get evo for its original cover price for a whole year!
Will we be writing about this weekend's race in the future? With the way the championship is going and the tension between Sebastian Vettel and Lewis Hamilton building, anything could happen and there is every chance that it could be spectacular….
1951 – Jose Froilan Gonzalez' first Ferrari win
This was the year that British Grand Prix saw a precedent for the future set and confirmed. Jose Froilan Gonzalez recorded Ferrari's first ever victory in a Championship Grand Prix at Silverstone. What was to become the most famous team in history had stamped its mark on the sport, a mark that would never vanish.
F1 has not been the same since Ferrari made that mark and despite some turbulent times over the years that have passed since its first victory, it's comfortably the most famous and popular team today. The larger than life Argentine driver who set Ferrari on the road to Grand Prix greatness is one of the most iconic names never win a championship and his talent was undeniable.
1955 – Stirling Moss' first grand prix first victory
This is one of the most significant dates in the history of British motorsport as the greatest talent to never win a world championship, Stirling Moss, won his first Grand Prix at Aintree.
He was also the first British driver ever to win the British Grand Prix and has inspired many Britons to go and become successful Grand Prix drivers in the years since. Stirling overtook Juan Manuel Fangio to claim victory on the finish line and to this day, he does not know whether Fangio slowed down to let him win. 
1969 – Jackie Stewart and Jochen Rindt battle
One of the most enthralling races of all time. Rarely have there been days where two drivers appeared to be in such a class of their own. Rindt and Stewart disappeared from the start, leaving the trailing pack behind. What followed was a dogfight, the likes of which has hardly been seen since.
With both drivers exhibiting levels of talent and skill that few had witnessed before, the battle was brought to a premature end when Rindt was forced to pit because of a loose end plate on his rear wing. Stewart won and had supposedly lapped every car by the end of the race. We live in hope that a battle of this magnitude may once again grace the British Grand Prix, potentially between Hamilton and Vettel. 
1973 – 11-car pile up at Woodcote on first lap. 
Woodcote is one of the few corners at Silverstone that has stood the test of time and changed little since its original incarnation. It was the scene of a huge accident in 1973 that has lived long in the memory.
With Jackie Stewart having built a gap to the rest of the field by the end of the first lap, Jody Scheckter made a mistake coming through Woodcote. What followed can only be described as carnage.
Having lost control and bounced off the wall, Scheckter ended up stranded in the middle of the track with more than half field coming through at racing speed. Drivers attempted to avoid Scheckter's car but the result was inevitable. An 11-car pile up ensued, though miraculously no fire broke out and no one was seriously injured. It was a horrendous accident that resulted in Scheckter being suspended from the next race as punishment for what was deemed to be dangerous driving. 
1976 – Hunt disqualification
Arguably the most iconic season in Formula 1 history, 1976 provided action and tension from start to finish. At the British Grand Prix, held at Brands Hatch that year, James Hunt was involved in a crash with Clay Ragazzoni at the first corner of the opening lap.
Hunt managed to limp his damaged car back to the pit. However, because he had used a service road to get back there, it was deemed that he had not completed a full lap and was therefore not allowed to make the restart.
Upon hearing the news the fans began to vent their anger. The car was repaired and with the risk of a riot ever increasing, stewards relented and allowed Hunt to compete. He duly went on to win race only to be disqualified because of a track width infringement on the car. Lauda was awarded the race win but it was all about Hunt on that day.
1977 – Giles Villeneuve debut
One of James Hunt's greatest contributions to the sport, the discovery and introduction of Giles Villeneuve to Formula 1. In 1977 Hunt brought Villeneuve to McLaren to drive a one off third car in the British Grand Prix at Silverstone. Despite Villeneuve impressing and Hunt desperate for McLaren to retain him, team boss Teddy Mayer decided to pass over him in favour of Patrick Tambay.
With McLaren not interested, Enzo Ferrari realised the level of talent that Villeneuve possessed and quickly snapped him up at the end of the year when Niki Lauda left his team. Villeneuve remained at Ferrari until he was killed in 1982 at Zolder - an incredible talent whose career was cut tragically short.
1987 – Nigel Mansell's infamous overtake
On the 35th lap of the 1987 Silverstone Grand prix, Mansell was forced to pit after realising that he had no chance of being able to keep up with Nelson Piquet on his current tyres without risking failing to make it to the end. As he emerged from the pits with 29 laps to go, the gap between himself and teammate Piquet, who was leading the race, had risen to 28 seconds.
Initially the risk looked to have backfired as Piquet matched Mansell's lap times and produced the fastest lap of the race so far on lap 40. However, Mansell began his infamous charge in which he broke the lap record on multiple occasions. Those who were there have described his charge through traffic and the back markers as mesmerising.
With the crowd becoming ever more vocal willing Mansell on, he was within 7.6 seconds of Piquet with 10 laps remaining. With two laps to go, he made his move. Having decided to run less wing than Piquet, his top speed and fuel economy were better than that of the Brazilian. By being right on the tail of Piquet down the Hangar straight, he was in a position to make his move. He jinked left to feint going round the outside. Piquet reacted but as he did Mansell ducked back right. In order to secure the move he had to be phenomenally late on the brakes, which nearly ended in tears as Piquet came back across. However, Mansell made the move stick and went on to win the race. On the warm down lap, he stopped where he had overtaken Piquet and kissed the ground. 
1991 – Mansell gives Senna a lift
This was one of the most iconic moments in Formula 1 history and a true demonstration of sporting camaraderie between two rivals. Having run out of fuel as he crossed the line to finish fourth, Senna was stranded.
In one of Formula 1's great moments, Mansell picked Senna up and took him back to the pits perched on the side pod of the car. However, some say that Senna merely wanted to have a look at the dash on the Williams to see if he could learn anything about the car. A very cynical view, but is their any truth in it? Who knows, either way it was a fantastic moment in the history of the sport. 
1995 – Johnny Herbert's maiden victory
Having been involved in a life threatening accident in 1988 at Brands Hatch in the International Formula 3000 Championship, it was widely believed that the career of Britain's greatest rising talent was over. However a year later in 1989 Johnny Herbert made his Formula debut in Brazil where he scored points. He had to wait six more years until 1995 until he managed to take his maiden win in Formula 1 at Silverstone.
Herbert's victory was brought about because of one of the most famous collisions in Formula 1 history. The two championship protagonists, Schumacher and Hill, were fighting at the font. Hill tried to dive up the inside of Schumacher but the German turned in and the two collided resulting in them ending up tangled in the gravel trap.
This promoted Herbert and Coulthard to the front where Coulthard was faced with a stop and go penalty that handed Herbert the race win. Despite inheriting the win, Herbert drove beautifully and few would begrudge him his place on the top step of the podium. It is just a shame that he never had the opportunity to win more races or fight for the championship. 
1998 – Schumacher wins in the pits
This is certainly one of the more bizarre moments in Formula 1. As a result of poor stewarding and some morally dubious exploitation of the rules from Ferrari, Michael Schumacher won the 1998 Silverstone Grand Prix in the pitlane. 
How this came about is somewhat complicated. As the safety car left the track, Schumacher overtook Mika Hakkinen. While it was an obvious offence, the stewards failed to issue the appropriate punishment until very late on towards the end of the race. Because of the late issuing of the penalty, Ferrari were able to pit Schumacher on the last lap of the race so that he crossed the finishing line in the pit lane before he actually served his stop-go penalty. This was clearly an infringement of the rules, but because of the way the stewards had issued the penalty, the result stood and to this day it remains the only time a race has been won from inside the pitlane.
1999 – Schumacher breaks leg costing him championship
It never ceases to amaze how the seven-time world champion Michael Schumacher was involved in so many incidents during his Formula 1 career. How did he ever find time to win all seven championships?
In this case it appears as though there wasn't a huge amount that he could have done to avoid the impending accident. Having made a poor start in a race that was crucial to his championship hopes (he sat 8 points behind Hakkinen in the standings), Schumacher went to overtake his teammate Eddie Irvine going in to Stowe, but instead ended up clattering into the barriers at tremendous speed and breaking his leg. A total brake failure was later shown to be responsible for this unfortunate accident.
As result of his injuries, Schumacher was forced to miss the next six races until he returned in Malaysia. Would he have won the championship if he hadn't been out for so long? Maybe, but Hakkinen was peerless all season and was a deserving winner no matter which way you view it. This race also enabled David Coulthard to win his first British Grand Prix, so there was a happy ending for British race fans. 
2003 – The priest's protest
An incident that put the future of Silverstone as part of the Formula 1 calendar under threat. With the sport's bosses Max Mosely and Bernie Ecclestone piling increased pressure on Silverstone with regard to that standard of its facilities, the last thing Silverstone needed was a serious incident that then track boss Martin Brundle described thus; "On the 11th lap of the race a priest ran on to the hangar straight to protest with a banner that read, "read the bible, the bible is always right."
The protestor was brought to ground where he was dragged away from the circuit. It was a highly dangerous incident that was part of what became an eventful and exciting race in its own right. This particular security break led to major improvements being made to the circuit. A similar incident had also taken place at Hockenheim in 2000. 
2008 – Hamilton's first British GP victory
Having already established himself as a future world champion during his debut season in 2007, where he narrowly missed out to Kimi Raikonen, 2008 was to be the year where Lewis Hamilton stamped his mark on his home Grand Prix.
Having had a poor qualifying where he ended up fourth and his teammate Kovalainen took pole, Hamilton was left with it all to do in the race, which would be held in a torrential downpour.
Having made a blistering start Hamilton was second going into copse behind Kovalainen when they made contact on the exit. He didn't remain in second for long, though, as he passed his teammate up the inside on the way into Stowe - as has happened so many times in Silverstone history. From this point Hamilton mastered the conditions in manner in which no one else could emulate. His main championship rival Massa famously span no less than five times during the heavily weather affected race. This was the day that Hamilton confirmed he really can be in a class of his own.