Watch - Fernando Alonso in the McLaren F1 simulator
Ride with two-time World Champion in one of F1's most advanced sims
McLaren might be ninth out of ten in the 2015 Formula 1 Constructors' standings and facing its toughest season for decades, but it's still one of the sport's biggest teams. With over 600 employees working directly for McLaren Racing and an estimated annual budget of around £165million, the team is the fourth most powerful on the grid, with only Red Bull, Ferrari and Mercedes above it. 
That's why this footage of McLaren's simulator, an otherwise heavily guarded and rather secretive asset of the team, is so interesting – it's one of the best of its kind in the world. And as if we needed confirmation, watching Fernando Alonso, a driver regarded by many as the most complete in F1, pushing hard in a digital version of the McLaren MP4-30, confirms just how realistic it is. 
The graphics, the car's responses, the way the chassis appears to shake with load through high-speed corners - from a spectator's point of view at least, it all appears very life-like. Alonso even has to catch a slide on the way into Vale, as the digital MP4-30 attempts to swap ends.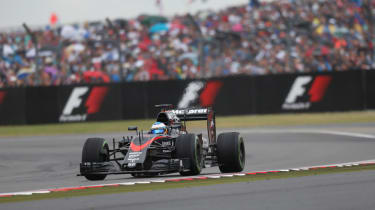 Very few people have access to this sim, and as such, this behind the scenes footage is a rare chance for us to see what it's like. evo's Richard Meaden recently sampled a similar racing sim at Banbury's Base Performance ahead of his drive in the Alpine A450 LMP2 car, and he acknowledged just how useful it was in learning both the circuit and the car. 'You feel yourself get slowly drawn into the experience, and then you're just driving a car,' he said. And McLaren's simulator is significantly more advanced than this. 
This new simulator footage was recorded in the run up to the British GP, a race where Jenson Button crashed out on lap one and Alonso finally secured his first point of the season with a 10th place finish. Though his point was welcome, by McLaren standards, it was another race to forget.
As simulators have become increasingly invaluable tools used by drivers and engineers in developing driving techniques and cars, McLaren will be using this sim extensively to reduce the chances of the MP4-30's poor form transferring into 2016's car. Unfortunately for McLaren though, it's up to Honda to sort out that unreliable powertrain.