Ferrari F40 sells for £793,000 in Coys Nurburgring auction
Ferrari F40 sells for a record price at the Oldtimer Grand Prix
Auctioneers Coys chalked up interest in the Oldtimer Grand Prix at the Nurburgring to the lack of a German F1 race in 2015.
That interest has paid off for some: Lot 138, a 1992 Ferrari F40 with only one owner and 7881 kilometres on the clock from new, sold for 1.12 million euros - around £793,000 at current exchange rates.
'For such an important car to come to the market, it created interest from around the world and was in the end sold to a delighted German buyer, followed by a round of applause in the auction room,' said Chris Routledge, Managing Partner at Coys, of the sale.
With a 1989 F40 expected to reach $1.2-1.5million at Mecum's Monterey auction later this month, there's every chance that number will be beaten again.
Other impressive results at the auction included a 2000 Ford GT selling for £161,000, a 2003 Ferrari 360 for £129,000 and another record price of £103,000 for a 1971 Lamborghini Espada SII. Further results are yet to be published.
Porsche 911s featured heavily in the auction, and all were stars in their own right. Perhaps the most special is lot 147, a 1976 ex-works Safari Martini Porsche 911 driven by Bjorn Waldegard.
First built by the Porsche Competition department to contest the 30,000 kilometre London Sydney Marathon. It failed to make the top ten – but only because the car arrived in Australia two days late due to shipping problems.
It later competed in Australia, and was later still converted to Paris Dakar specification, with a works 953, 3.2-litre Dakar-spec engine. Coys describes the car, not unreasonably, as 'unstoppable on any road conditions or terrain.'
Joining the 1976 car are a 1978, 911 3.3 Turbo, also wearing Martini livery (estimate: 85,000-100,000 euros, £60,000-£70,000), and an ex Carrera Panamericana, 1975 911 short-wheelbase.  The bright yellow example is expected to reach 180,000-220,000 euros (£126,000-£154,000).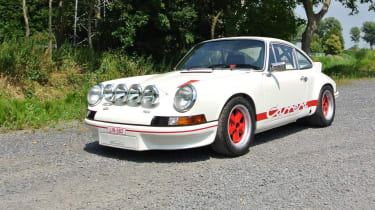 On the road car front,  albeit fully equipped for racing, is a 1973 Porsche 911 Carrera 2.7 RS. It's listed as one of the first 500 examples built to meet the FIA's homologation requirements for the 1973 GT Championship season. An estimate of 650,000-850,000 euros (£456,000-£596,000) is indicative of the desirability of these early Rennsport cars.
While the Nurburgring auction is a hive of German metal, Italian cars also get a look-in – from a Group 4, Fiat 124 Spider rally car (35,000-45,000 euros) to a beautiful 1960 Alfa Romeo Giulietta Sprint Speciale race car – expected to fetch 90,000-130,000 euros.
We'll update this story with further results as they're published.