MG3 receives much needed EU6 engine updates
Will better efficiency drag the 3's drivetrain up to date?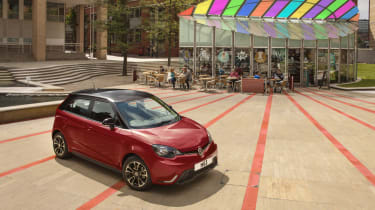 In so many ways the MG3 is a brilliant car. It looks good, comes with a generous supply of standard kit, it's priced fairly and best of all, it handles like a proper warm hatch. Combine all of this and you have a great value package, but unfortunately one key component really lets the side down – the engine. 
When we first drove the car back in 2013 we discovered that its 1.5-litre unit wasn't just thrashy, it lacked the character and efficiency of its rivals. What the MG3 really needed was a more modern drivetrain – so this week's announcement that the four-cylinder has been updated for 2016 comes as welcome news.
With the help of start/stop technology, the naturally aspirated engine is now EU6 compliant – it produces a respectable 124g/km of CO2 (12g less than before) and is said to be more fuel-efficient (the pre-update engine was good for a claimed 48.7mpg combined). But unfortunately, that's as far as the improvements go, because there's no mention of more power.
That means the 2016 car will still produce 105bhp and 101lb ft of torque, and 0 to 62mph will take a claimed 10.9 seconds. Admittedly there's just about enough grunt to expose the chassis' underlying talents – it mixes a responsive front end with a lively rear axle – but unfortunately not enough to ensure the MG3 can hack it as a warm hatch.
Where the MG3 does do better is in its pricing – the new car is available in five trim levels - 3Time, 3From, 3Form Sport, 3Style and 3Style Lux – starting from just £8,399 and topping out at £10,999. And with 3s equipped with DAB, Bluetooth connectivity, 16-inch alloys and all-round electric windows available for less than £10k, the car is no doubt a tempting prospect for first time buyers who want a fun handling car.