Faraday Future FFZero1 - 1000bhp hypercar stuns in Las Vegas
American electric vehicle startup looks far into the future with a striking, human-connected hypercar
Faraday Future, a little-known electric vehicle company from the United States, has unveiled a striking hypercar concept at the Consumer Electronics Show in Las Vegas.
Dubbed FFZero1, the car takes the form of a single-seat, electric-powered hypercar with styling influenced heavily by aerodynamic demands and a Le Mans Prototype-style central fin for directional stability.
It's certainly rather different from the practical Tesla alternative many were expecting, though the FFZero1 is designed more as an attention-grabber and technological showcase than a realistic production vehicle.
Below the swoopy styling are four quad-core electric motors producing more than 1000 bhp combined. The benchmark 0-60mph launch takes less than 3 seconds and a top speed of more than 200mph is quoted. So far, so hypercar (and all theoretical).
More unusual are the FFZero1's connected car features, For one, the driver's smartphone is positioned centre-stage, integrated with the car's steering wheel. As well as real-time data and interaction with vehicle functions, the smartphone can be used before a drive to customise different aspects of the car, and change the vehicle's setup.
Faraday Future describes the car's cockpit as being inspired by NASA zero-gravity design, for 'an unparalleled sense of weightlessness and reduced driver fatigue'. A special Halo Safety System supports the driver's head and neck – feeding them oxygen and water through a special helmet – while the car can also gather biometric data on the driver.
If that all sounds overly futuristic, there are some realistic aspects to the FFZero1. It's built on Faraday Future's 'Variable Platform Architecture', which uses the battery as an integral, structural and modular element of the vehicle, and is therefore adaptable for a vehicle's needs.
It could be used, for example, for a much more practical vehicle – the kind Faraday Future is more likely to produce if it's to make an impact on the market.
Indeed, the company hints at such a vehicle in its preview video for the FFZero1 concept, showing a momentary flash of a two-box vehicle over the supercar's striking profile.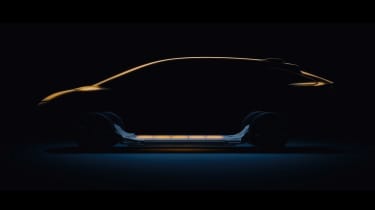 Stay tuned on evo.co.uk for more from the Consumer Electronics Show in Las Vegas.