Hennessey Performance planning 400bhp Ford Focus RS
Even more power for Ford's super-hatch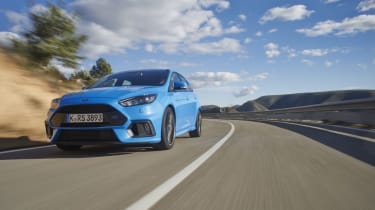 Hennessey Performance, they of 270mph Venom GT fame, is turning its attentions to the ever so slightly more humble Focus RS. Called the HPE400, the four-wheel drive hot Ford will have a claimed 400bhp and 425lb ft of torque when the upgrade kit is available later this year. 
The performance kit will consist of an engine ECU remap, a high-flow air filter and a stainless steel mid-pipe upgrade with an electronic dump valve. There will also be a smattering of Hennessey badges stuck here, there and seemingly everywhere. 
>Read our Ford Focus RS review
With the gen-three Focus RS being the first iteration to be sold in North America the number of aftermarket tuning options are coming thick and fast for the four-wheel drive hot hatch. 
Hennessey Performance's upgrades will result in a 60bhp power and a 78lb ft increase in torque over the standard car's 345bhp produced at 6000rpm and 347lb ft produced from 2000 through to 4500rpm. Hennessey has yet to confirm engine speeds for its performance increases. 
The Henneessey conversion will match Ford specialist Mountune's Focus RS tuning upgrades, which has resulted in its Phase 3 conversion delivering 375bhp and 391lb ft of torque with a claimed 0-60mph time of 4.4seconds. Hennessey will be hoping to improve on the performance figures achieved by Mountune when it gets its car on a drag strip. 
Mountune's Phase 3 kit is very similar to the one Hennessey will provide with a reprogrammed ECU, freer breathing air induction kit, revised air ducting, silicone hoses and a upgraded air re-circulation valve.  Mountune charge £1050 for its Phase 3 upgrade, or you could opt for the Ford-approved upgrade (also developed and carried out by Mountune), which costs £899 and retains the manufacturer's warranty in return for 370bhp and 376lb ft and a 4.5-second 0-60mph time. 
Along with its tuning packages, Mountune also offers a number of other tuning options, including an ally intercooler upgrade, a set of OZ wheels and tyres and a Quaife differential. With the popularity of the Focus RS and the enthusiasm for aftermarket tuning that has always surrounded fast Fords expect many more tuning houses to join both Hennessey and Mountune in offering performance upgrades for Ford's hottest every hatchback.